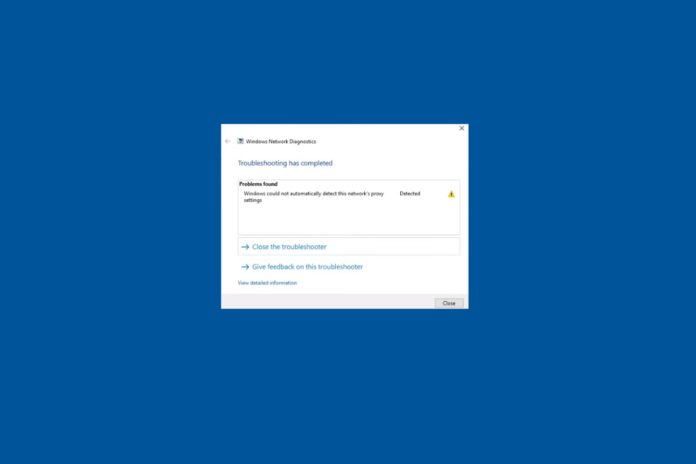 There are a significant number of users who face network issues in windows 10. A prompt shows up as 'Windows could not automatically detect network's proxy settings' on the taskbar. The error although is not something that is specific to any particular build. Corrupt system files most of the time plays the villain.
No software on this planet earth is perfect. No matter how you cheer for your favorite one, software is and never will be perfect. Windows 10 which is arguably the last version Windows faced a lot of setbacks regarding its performance since its debut. Although Microsoft did address some of the issues via software patches or fixed in the subsequent builds which happens twice in a year.
No matter what causes the error 'Windows could not automatically detect network's proxy settings', we are here for you with a handful amount of fixes. The fixes need your attention and we recommend you to perform them quite carefully as sometimes it can even reverse the situation to worse.
Brief: Steps to fix error Windows could not automatically detect network's proxy settings
Check your proxy server settings.
Reset TCP/IP.
Disable your antivirus software.
Scan your PC.
DISM scan.
Restart your network adapter.
Run Network Troubleshoot.
Update drivers.
Fix DNS.
Proxy.
In detail: How to fix Windows could not automatically detect this network's proxy settings error
Check your proxy server settings
Hit Win + R, in the bottom left corner a run option will pop up, type inetcpl.cpl and then press Enter. You can also just type "Internet properties" in windows search to attain the same result. In Internet properties, do this:
Look for connections tab. It should appear 5th up in the Window.
Click on Connections now you will see Local Area Network (LAN) Settings in the bottom right corner.
Hit that LAN setting.
Make sure you've unchecked the "Use a proxy server for your LAN option".
Reset TCP/IP
If corrupt system files cause the issue, a TCP/IP reset can fix the issue, and here's how you can reset it:
Use Cortana to run Command Prompt as Admin.
Type: netsh int ip reset resetlog.txt in Command Prompt (admin).
and that's it, check if your problem has been fixed or not.
Disable your antivirus software
Although a user who understands internet security better or keeps himself away from the some of the obvious things that people often perform due to their lack knowledge does not need an antivirus software in Windows 10. Although Microsoft provides a Stock solution which is known as Windows Defender (will be called Windows Security from Redstone 4 update) still some users just prefer some extra layer of protection to their PCs. Whatever may be the reason behind your purchase of a third party anti-virus solution, we recommend you to temporarily disable the software and then check if the situation gets any better or not. If it does solve the issue that means the issue is caused by the anti-virus programme itself and you need to report that to the company, who's solution you have purchased so that they can assist you further.
Scan your PC
Do not confuse yourself with anti-virus software scan, we're talking about SFC. Here's how to do that:
Open Command Prompt in administrator setting.
Type SFC/Scannow and press Enter.
Windows will automatically look for files that are suspicious or corrupt and causing problems to your PC.
The process might take a bit longer depending upon your storage and OS architecture, x86(32 bit) or x64(64 bit) whichever it is. This will automatically resolve the problem if any corrupt system files were responsible.
DISM scan
Deployment Image Servicing and Management (DISM) scan requires a healthy internet connection. Don't put DISM scan and SFC scan in the same category. They might sound similar but they are two very different things from a Computer science perspective. Here DISM checks for and fixes corrupt online Windows Update source while SFC checks for and fixes corrupt system files. To perform DISM:
Open Command Prompt as admin.
Type DISM /Online /Cleanup-Image /RestoreHealth and hit Enter.
Now check if that works for you.
Restart your network adapter
Amongst all the solution it is the easiest one to perform. There is a network icon on your left side of the Taskbar, do the following:
Right-click on the network icon and click Open Network and Sharing Centre option.
You will be redirected to the Control panel settings (In case you are running creators update) in which "Change Adapter Settings" will show up. Click on it and check for your connection right click and Disable.
Let us remind you that Microsoft is slowly migrating all the setting from Control panel to the settings app. You might not find the network adapter settings on the control panel if you are running Fall Creator's Update or higher. Well, in that case, the process will be the same just that you will be redirected to the settings app on clicking "Open Network and Sharing Centre." From there you can easily look for Ethernet option on the left side. Click on it and you will see Change Adapter Option on the right side of the settings app.
You need to enable it again by right-clicking the network connection following the same methods.
A Bit of Network Troubleshoot
This one is fairly simple. Just open your Settings app and look for Update and Security. You will see Troubleshoot option on the left side. Right click on Troubleshoot, then right click on the Network Adapter section and click on RUN THE TROUBLESHOOTER.
Give your drivers a new life:
In an age of AIs and machine learning, we expect any Operating system to perform all the necessary function before it comes to the rescue. Searching for drivers in order to serve the user a glitch-free performance is a basic function. Sometimes it so happens that Windows is unable to perform the installation on his own. Although the situation is highly unlikely to still you can manually check for driver updates.
Type Device Manager in Windows search and click on it to enter in the device manager window.
Here you will find all the drivers your computer is running in the background.
Amongst all the option select the Network adapter and check out if there is any new update available.
If it finds any, perform the update and check if that serves you.
DNS server and Internet protocol Setting
In the Windows search option press Win+R, run windows type ncpa.cpl and hit enter. It should redirect you to the Network Connections page. Right click on Ethernet option and click on properties to open Ethernet properties window.
Double click on Internet Protocol version 4(TCP/IPv4) and check if Obtain an IP address automatically option is selected or not.
You need to select both Obtain an IP address automatically and Obtain DNS server automatically in that window and then check if the issue still exists.
Proxy
Go to Windows settings and then type PROXY in the Find a setting bar. Click on Change a Proxy Setting and make sure automatically detect setting is enabled.
A twitch to the Internet settings
Press Win+R and type inetcpl.cpl and hit Enter. Now select the Advanced option in the Internet properties window. In the bottom left corner click on reset option. It requires a system reboot to make the full impression.
If you don't want to perform all the stuff on your own for whatever reason, there are some third-party solution which can be of your assistance. Now be very careful before you download any third party solution. Remember they will look into your PC and they often install other programs, which might expose your PC to malware.