Microsoft's former CEO Steve Ballmer announced the Surface in 2012 in Los Angeles, the first Surface hardware was powered by Windows operating system and it was designed by the software giant. Microsoft initially marketed the Windows device as 'Surface for Windows RT, but at that time, the first generation of Surface tablets had performed badly in the market.
While the second generation model of the Surface line, the Surface Pro was marketed as 'Surface for Windows 8 Pro' and this failed as well. "We need to make hardware that gives us permission to be in hardware," Nadella told Panos Panay when Surface failed to meet the revenue expectations.
"You have a vision. You have a whole vision. It's never one generation that's going to get you there," Panay told Business Insider. On February 9th, the Surface Pro lineup turned 5 and Panos couldn't stop himself from sharing his journey at Microsoft Surface team.
"In the five years since we launched Surface Pro a lot has changed, but at the same time much has stayed the same. It's incredible to me that most of the people that worked on the original Surface Pro are still a part of the Devices team. It's one of the things I'm most proud of – yes, we built a device, and it's a great device – but together we also built a team and culture that's invaluable," Panos Panay said in a post on Instagram.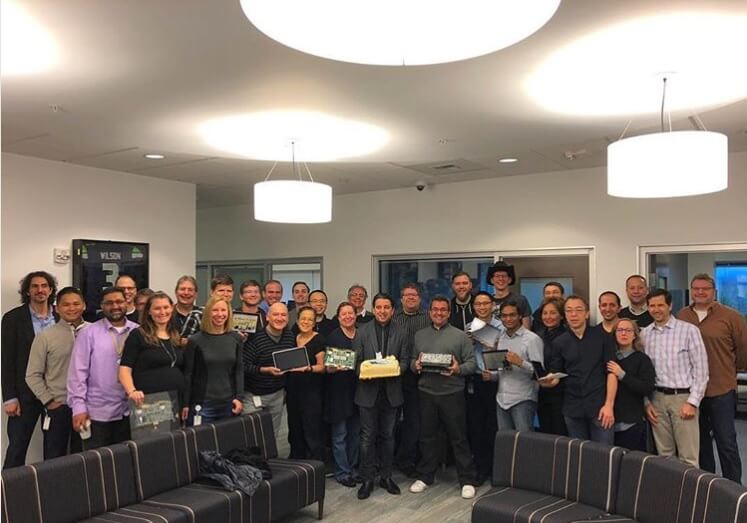 "This photo was taken during a celebration of the Surface Pro 5 year anniversary with some of those original team members, and while we were reminiscing, people sharing their favorite memories and what they're most proud of, I kept hearing the same thing – we had a vision, a vision that seemed crazy to many at the time, but we never gave up on it, we pushed forward together, and we put our heart and soul into a product that changed our lives. Happy Anniversary Surface Pro," he added.
While the first two models of the Surface lineup failed to meet the expectations, Microsoft then announced the Surface Pro 3 on 20 May 2014, and it turned out to be the game changer for the software giant.
"I tortured [my team] the whole way," Panay says. "We needed something iconic. You can't create an icon; an icon creates itself." Since then, every Surface model continued the innovation.
Microsoft announced the Surface Pro 4 and the Surface Book, a hybrid laptop at its October 2015 Event in New York on 10 October 2015. While the Lumia hardware business failed, with the Surface line, Microsoft proved that it could do more than software.