The 2-in-1 market is pretty saturated now. All the big OEMs have flooded the market with devices and needless to say, there's something for every price range. But what happens when you just want a good affordable Windows 2-in-1 that won't break the bank, but work fine? Enter Chuwi CoreBook, the latest offering from Chuwi. It's a 2-in-1 Windows Notebook, and it's just perfect, we haven't found a single flaw with it.
Chuwi CoreBook design
With a sturdy well-built body coming with an aluminium alloy enclosure, it's amazingly light while giving off a feeling of durability at the same time. Perfect for travelling, the lightweight Chuwi CoreBook can be whipped out of the bag anytime anywhere on the commute to get some work done.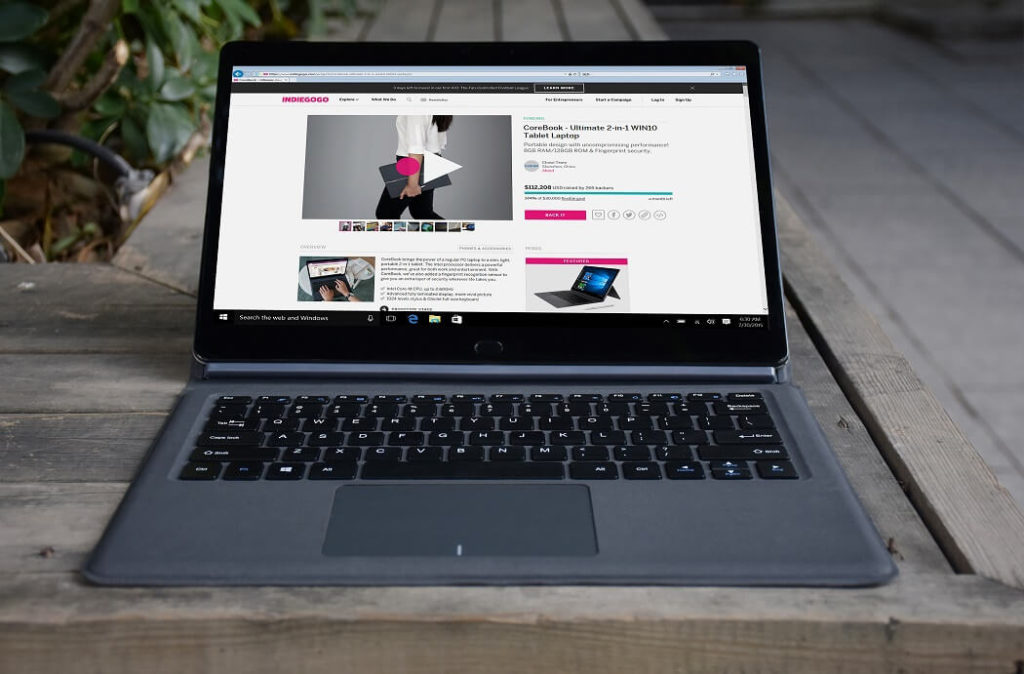 The CoreBook is designed pretty well and feels great when held. With it's unique 2.5D curved glass edges and the ergonomic design, it's hard to complain about the looks. I was delighted to hold the device in my hands and it certainly screams premium from the looks.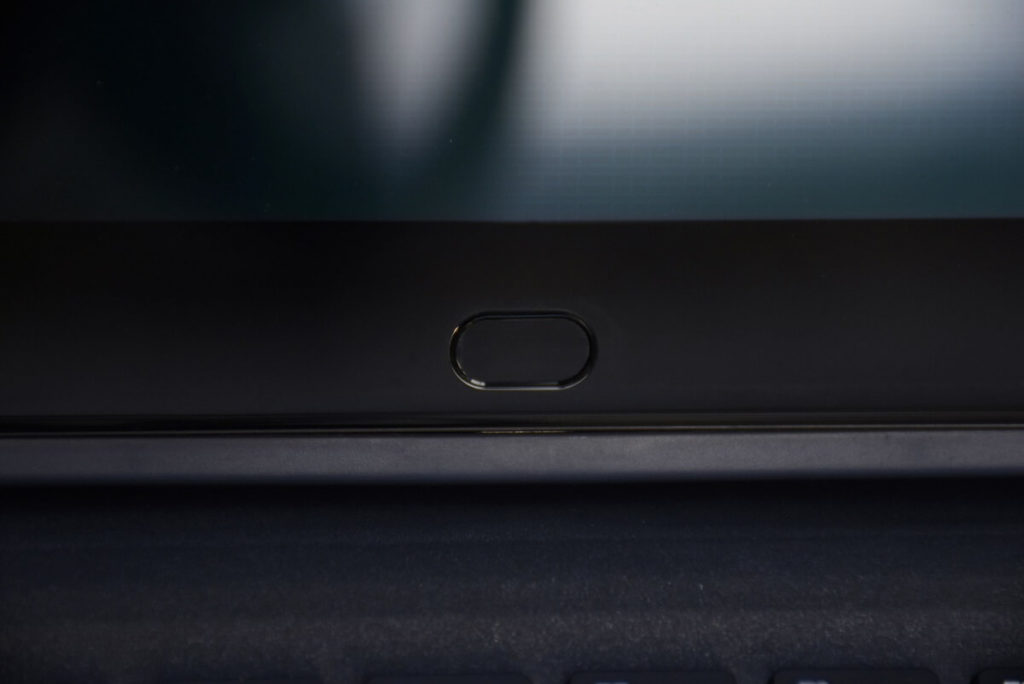 There are front facing and rear facing cameras and they take pretty crisp photos. While you shouldn't expect stellar shots out of it, it is actually pretty decent. What I really love about the cameras are their placements. It gives the CoreBook a sleek look and needless to say, I like it a lot.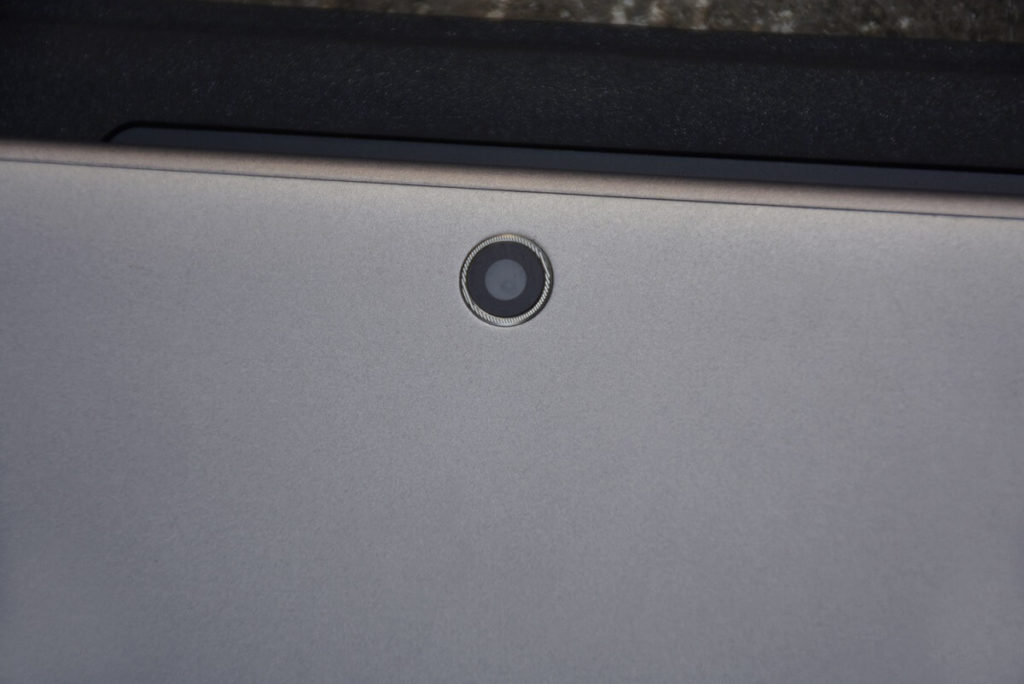 Chuwi CoreBook Display
I have already said that the CoreBook display looks amazing but that was based on the design. When you actually fire up the device, you'll be greeted by a beautiful display. With a Full HD(1920 x 1080) OGS display, everything looks crisp and clear on the 13.3 inch touchscreen. I could crank up the brightness to 350 nits, and I have to say, Chuwi has done a great job. Whether working in outdoors or in your room, the display looks perfect.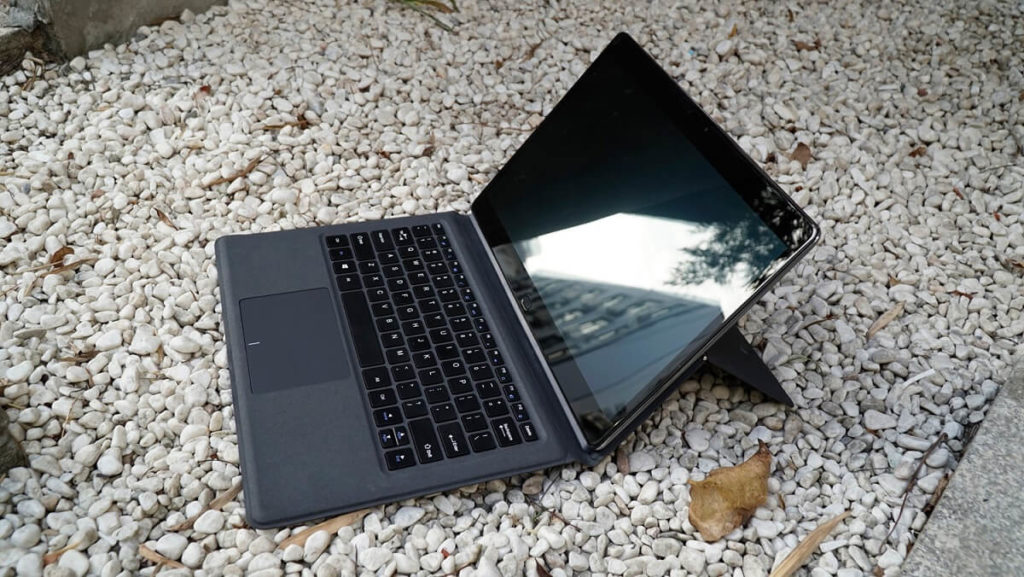 I am not a fan of too bright displays. They hurt my eyes a lot and I always have to manually adjust the brightness of all devices I use. The CoreBook was an exception. The display looked comfortable enough. With it's fully laminated display the glare was absolute minimum in the outdoors and I found no difficulty in using the touchscreen.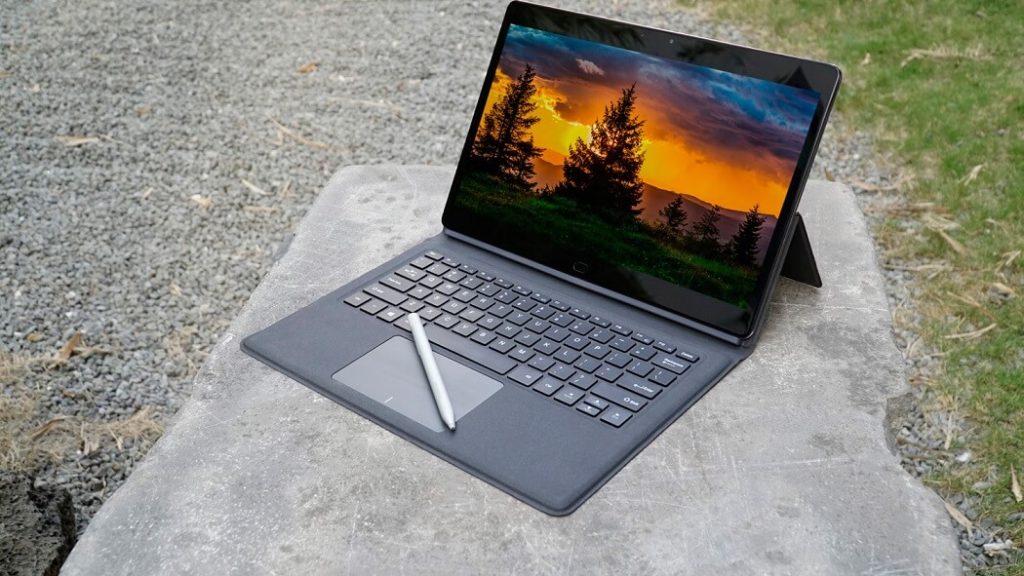 Chuwi CoreBook Connectivity
The selection of ports is a major headache on all laptops and 2-in-1s now. No matter what device you buy, you have to compromise on one port or the other. Fortunately the Chuwi CoreBook doesn't cut much in the connectivity department.
There's a USB-C 3.0 port, a micro USB port and a 3.5mm headphone jack. There's also a microSDXC card slot, so you can increase the storage capacity whenever you want. While I do miss the omission of a full fledged USB port, the inclusion of the high speed USB-C port has taken away most of my worries.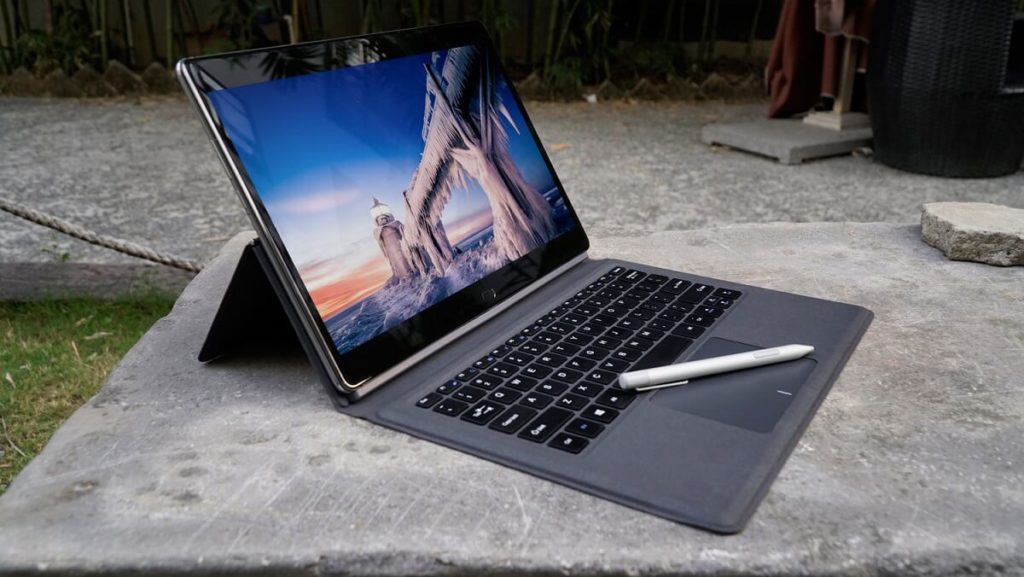 There's also a fingerprint sensor for Windows Hello support. The sensor works fast enough and I use it frequently. I needed a few days to get used to the placement of the physical power and volume buttons on the left. The buttons felt clicky and great and I have no qualms about it.
Chuwi CoreBook Keyboard
I am very picky about keyboards. It needs to feel right and fortunately the CoreBook doesn't disappoint. Being a 2-in-1 device, it has a detachable keyboard that latches itself to the device with Pogo pins. The hinge is sturdy and doesn't feel flimsy like many other 2-in-1s I tested.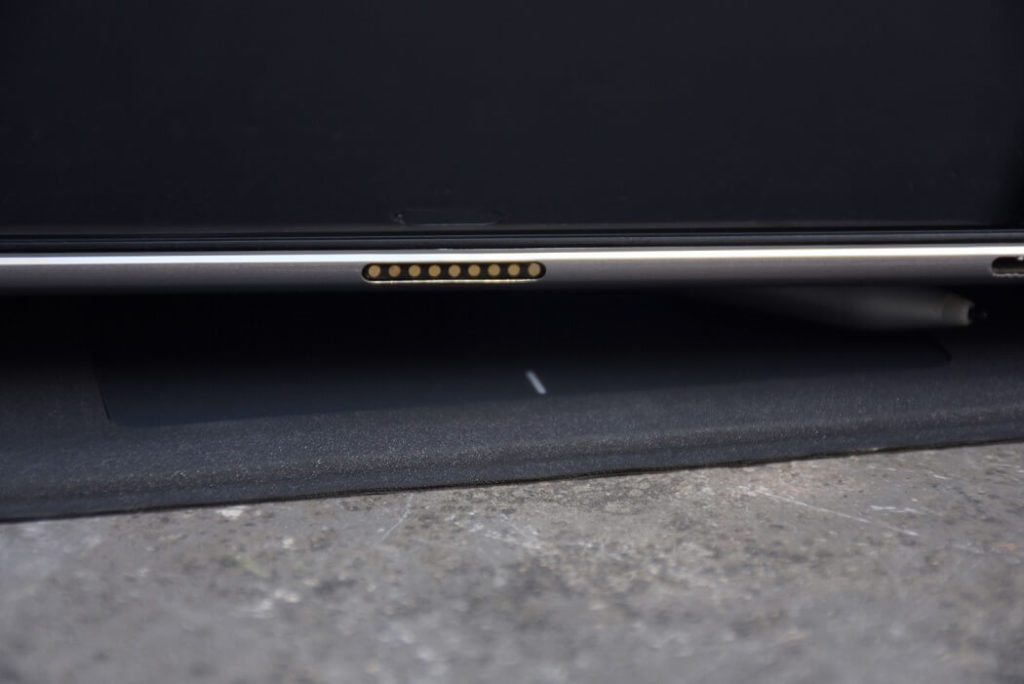 As for the keyboard itself, it feels great. Typing is a smooth experience with plenty of key travel. The keys are clicky and have a great response something that I am pretty particular about. The touchpad is okay and I found it to be okayish during my short period of usage.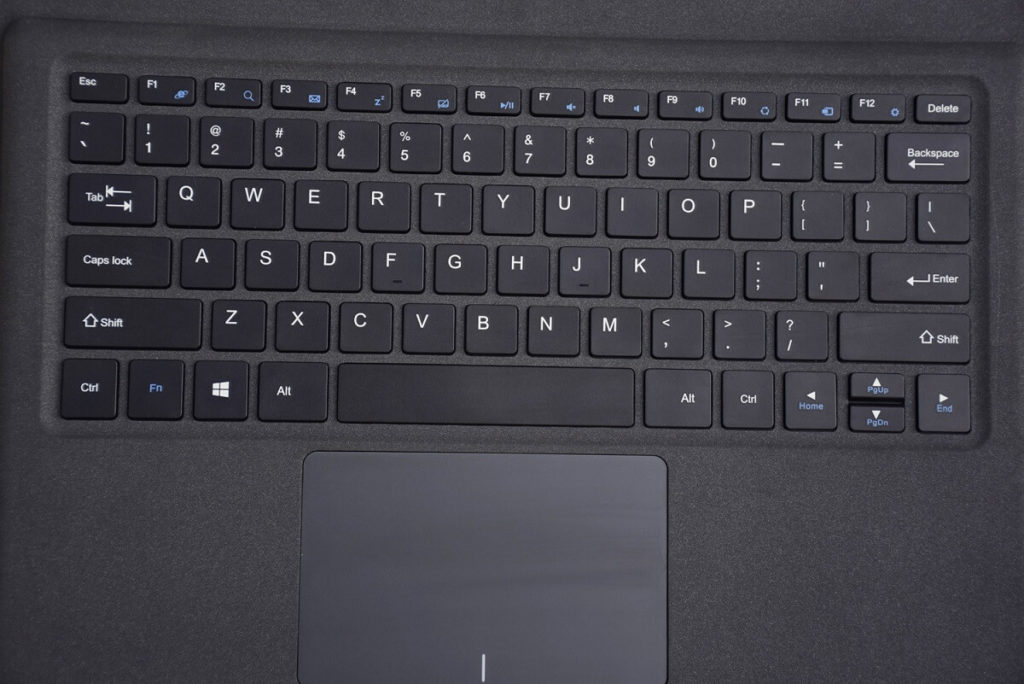 The CoreBook also has stylus support and there's an included pen. While it's no Surface Pen, it's not bad either. Considering the face that you're getting it bundled with the device is an added plus and with 1024 levels of pressure, inking on Windows 10 is a smooth experience.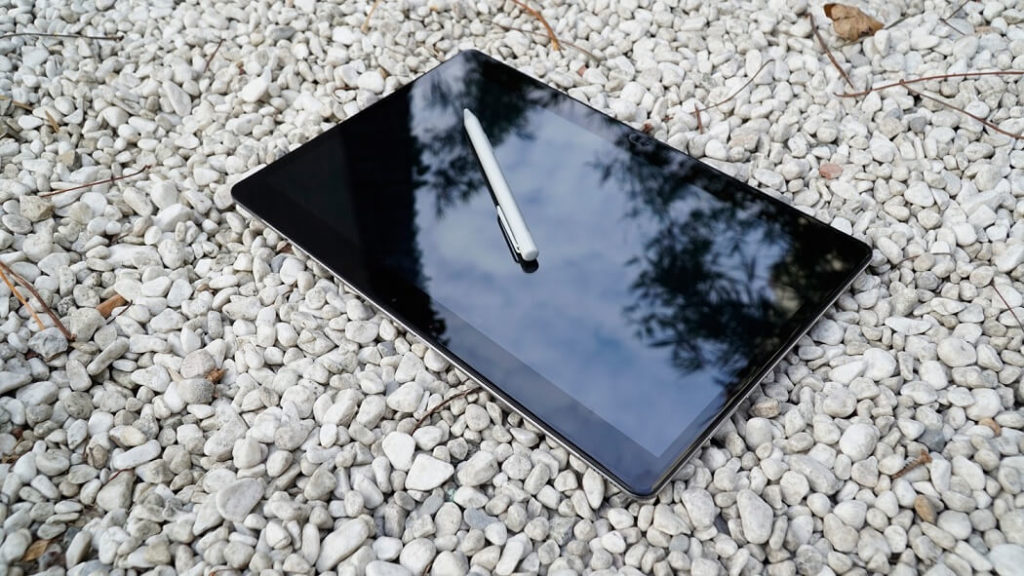 Chuwi CoreBook Specs
While it's all great outside, I wondered about the insides of the CoreBook. Often OEMs cut on the hardware part to keep costs down and I was worried that Chuwi would do the same. However, Chuwi amazed me again.
Powered by the Intel Core m3 Kaby Lake processor, the Chuwi CoreBook pulls through everyday tasks like a breeze. With a maximum frequency of 2.6GHz and hyperthreading on the two physical cores, everyday tasks are handled easily. The 8GB RAM is enough for light multitasking activities. Backed up by the Intel HD Graphics 615, watching 4K videos and playing some light games will not be a problem at all.
As for storage options, you get a 128GB SSD drive included. It can be further expanded using the microSDXC expansion slot. Windows 10 runs fine on the specs and I found myself using the CoreBook more and more for my daily tasks.
Final thoughts
I have to say that I'm thoroughly impressed by it. There are almost no noticeable flaws and for the price, it's a amazing device. Everything feels great about it. It's light in weight, sexy in looks, beast when it comes to performance and easy on the pocket. There's nothing to hate about the device.
The CoreBook is currently being sold at an attractive price of $499 on Indiegogo for the first backers and is expected to ship within March 2018 if you order it now. You can order it by going to the Indiegogo page here and for the $499 price you are getting the CoreBook, the keyboard and the stylus.
The funding has reached well over 1135% and there's a strong interest in the device. I have fallen in love with the device and I would highly recommend it to anyone who is in search of a good affordable 2-in-1 device.