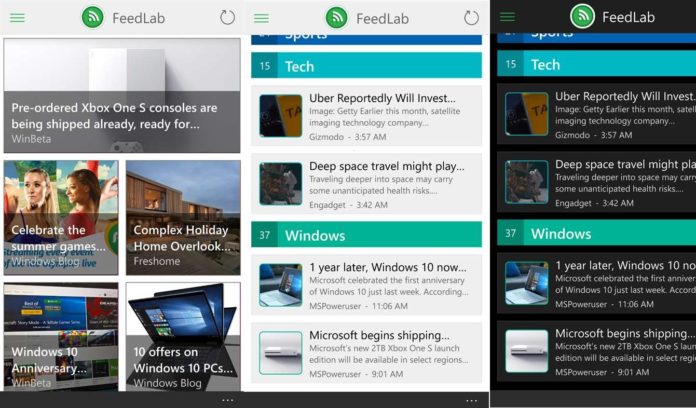 FeedLab is a third party app for Windows 10. The app is now receiving a new and a major update for Windows 10 users. The app has been bumped to new version 3.0. The update comes with lots of new features which include Fluent Design Elements, new settings options, keyboard shortcuts and more.
FeedLab with the latest update, lets the app now be translated and localized to German, Portuguese and Spanish speakers. The update has also brought the Fluent Design effects to its app. The Fluent Design effects can be seen through the app's scroll bar menu along with the Settings section.
The team has brought a new redesigned settings section by removing the green color and adding the Fluent Design blur effect elements. Synchronizing accounts between all your Windows 10 devices is also now possible with the latest update.
You will also be able to disable advanced sharing of FeedLab and just use the Windows 10 sharing option after the latest update. The team has also added two new actions "Mark as read older than one day" and "Mark as read older than one week" along with fixing sharing articles issue via Facebook.
The apps live tile has also received some improvements with the developers now adding the option to pin number of unread articles on the lock screen. The app is currently available for download free of cost in the Microsoft Store and you can get it by clicking the below link.