Seems like holiday season resulted in the growth of PC shipments for the first time in 6 years. According to IDC, total shipments of PCs for Q4 2017 was 70.6 million whereas shipments for Q4 2016 was 70.1 million. That is an increase of 0.7% and is totally opposite of what IDC predicted ie. sales of PCs will drop by 2.7% in 2017.
While on the other hand, the total shipments in 2017 saw a decline of 0.2% as the sales dropped from 260.2 million to 259.6 million.
The sales figure mainly struggled in the US with just 16.5 million total units of notebooks and desktops sold whereas in other countries like Europe, Japan, Africa and the Middle East the sales were stable. The region that helped in the increase of the Q4 sales/shipments were from Asia/Pacific and Latin America.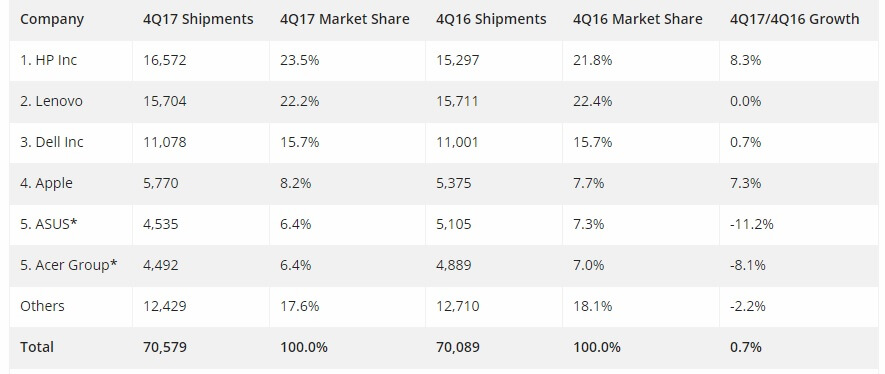 With the domination of mobile phones, PCs sales have struggled as many users prefer small devices over large and bulkier devices. Neha Mahajan, senior research analyst at IDC says, "The solid holiday consumer sales provided enough momentum for the PC market to stabilize a bit further. However, the growing popularity of other mobile form factors continued to have a dampening effect and led the overall U.S. PC market to perform below expectations."
From the company perspective, HP topped the list with 16.5 million shipments in Q4 2017 followed by Lenovo (15.7 million), Dell (11 million), Apple (5.8 million), Asus (4.5 million) and Acer (4.5 million).