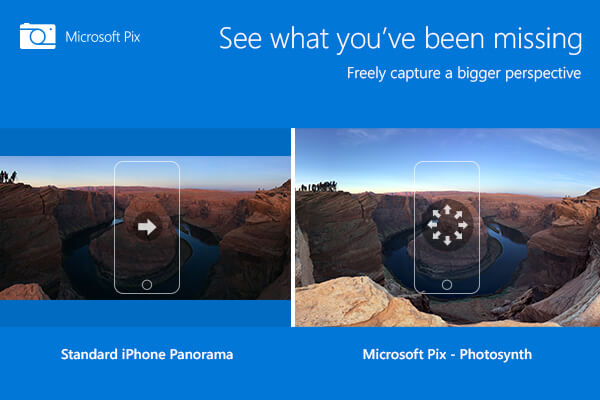 Microsoft recently rolled out a major update for its iPhone camera app with a new feature. Microsoft Pix, a camera app for iPhone is receiving the Photosync feature, a service Microsoft abandoned earlier this year.
The updated version of Microsoft Pix 1.3.2 also comes with other features. In a blog post, Microsoft explained that Photosynth feature in Pix camera app lets you create photos that take in the scene you are standing in front of.
"Photosynth does this by allowing you to freely pan and capture from side to side, up and down, back and forth, and even go back to the start to include any parts of the scene you may have missed," Microsoft's Nicky Budd-Thanos explains in a blog post.
"Photosynth in Pix allows for faster and smoother capture, while also making use of Pix's auto-enhancement capabilities which improve white balance, tone correction and sharpness," Microsoft says.
Microsoft allows the user to move the photo to any direction, and the update also comes with another new feature called Pix Comix. This feature turns your videos into comics, the feature basically uses AI to select the most interesting frames in the clip. You can download the camera app from the Apple's App Store.