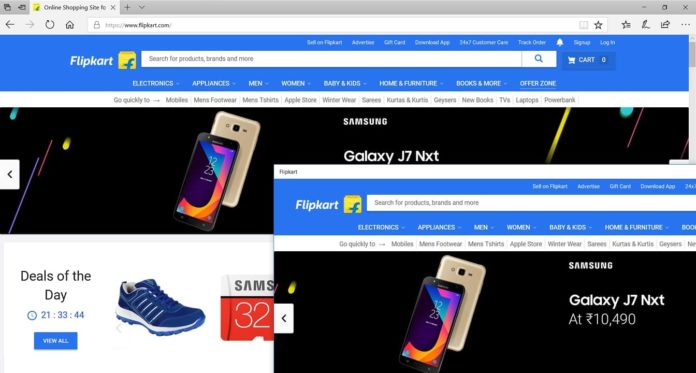 Flipkart, the electronic commerce company headquartered in Bengaluru, India has today replaced its Windows 10 app with a web wrapper. Today, the company updated its application to version 4.0.3.0 and the app now opens the web version of Flipkart on both desktop and Mobile.
Flipkart was one of the best-designed Windows 10 apps, the app based on the Microsoft's Universal Windows Platform offered a seamless experience across all form factors devices. However, the new client is just a basic web app which is available for Windows 10 PCs and Mobiles.
It appears that the new Flipkart 'app' has been developed with Project Westminster, the official bridge that allows developers to port their apps to the Microsoft Store (formerly Windows Store).
"At Flipkart, we strive to innovate and re-invent the customer experience at every touch-point. Over the last few months, we have been working on the Windows 10 platform to create richer and more personalized experience for our consumers. We have been working towards creating a seamless experience similar to that of an app and Windows 10 surely provides opportunities to introduce innovative features," Amar Nagaram, Director, Mobile Engineering, Flipkart said in a blog post last year.
The Flipkart web app performance is apparently better than the actual Windows 10 app, while you can get the same Flipkart Lite app experience by visiting the company's website. It's worth noting again that Flipkart's app is just a web wrapper that doesn't do more what the web version of the electronic commerce company can do.