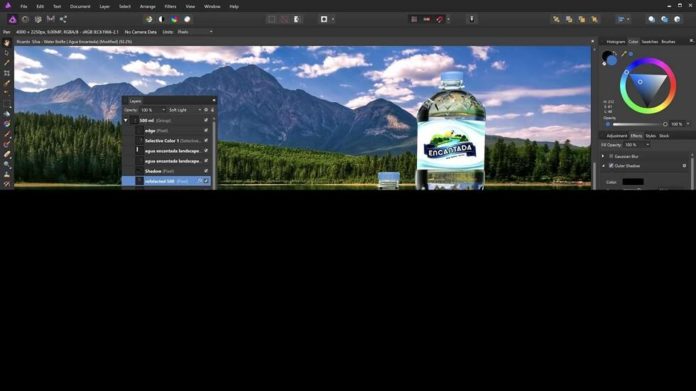 Affinity Designer and Photo is now available on the Microsoft Store for Windows 10. Earlier this year Affinity Designer debuted on Windows Platform, but it was a legacy Win32/64 programme. Now that Microsoft made it easy to port existing Win32/64 programme into a Store app, Affinity appreciated the effort and finally launched the Store version of their existing programme.
Affinity Designer
Affinity Designer is a Desktop Bridge (Centennial) app. It is the same Win32 version with the same functionality of its Win32/64 counterpart with better update mechanism since it is a Store app.
Affinity Designer is the fastest, smoothest, most precise vector graphic design software available. Whether you're working on graphics for marketing materials, websites, icons, UI design or just like creating cool concept art, Affinity Designer will revolutionize how you work. They added some essential features which include, panning and zooming is always live at 60fps, live gradients, transforms, effects and adjustments, end-to-end ICC color management and so much more. Although it does not support Surface Dial at the moment but it will be available soon.
The app is not free, however, if you download it now you will save $12.5 which is not a bad deal at all, considering its capabilities. The app is down to $37.49. Affinity designer will only run on the x64 architecture at this moment.
Affinity Photo
Affinity Photo editor application supports all the standard formats like PNG, TIFF, JPG, GIF, SVG, EPS, EXR, HDR, and PDF. The app also has some image processing feature i.e., Focus Merge, HDR Merge and Tone mapping for advanced image processing. Massive collection of effects available, including blurs, distortions, tilt-shift, shadows, glows, lighting and many more. It has all the power and performance you will ever need. Affinity Photo requires an x64 architecture machine running Windows 10 Build 14393.0 or higher.
You can grab Affinity Photo right now for a very good deal. They are running a promotional offer which will save you $12.50, bringing the app down to $37.49. The promotional offer will be available for five days from today.