While Windows Phone is dead, many are still using the devices but as Microsoft has now offically discontinued the operating system, more and more users are ditching Windows Phone for Android or iOS. A month ago, Kantar World Panel market share revealed that Windows Phone market share continued to plummet, it wasn't surprising given the fact Microsoft has stopped supporting the platform and no new Windows Phone hardware is available.
Kantar has released the new market share report and as expected, Windows Phone market share has dropped once again. The smartphone OS market share data from Kantar World Panel market research company revealed that Windows Phone users were currently switching to Android. A while ago, Kantar claimed that Windows Phone users were switching to Android because "Android has offered a better user experience, with a variety of brands and models across a multitude of price points."
As you expect, Android market share has increased once again. Kantar's new data compares the market share of July, August and September to same period last year. The market share of Windows Phone has dropped to 0.8 from 1.9 percent in the US. The report indicates that Windows Phone users are switching to Android, especially in the Europe.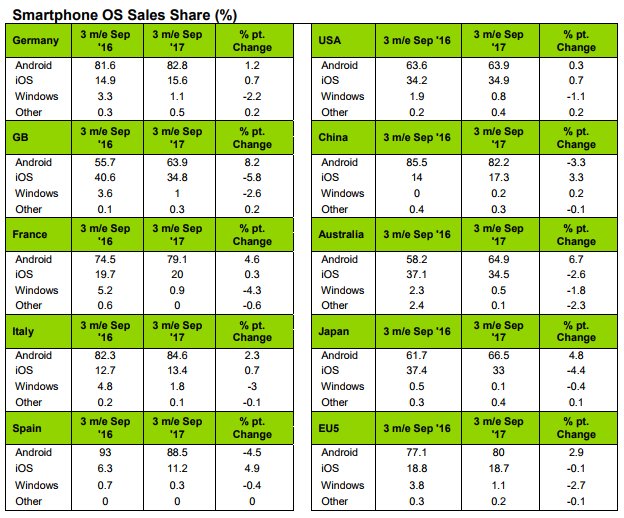 The combined market share of UK, Germany, France, Italy and Spain has revealed that Android has 80 percent share (+2.9), iOS has 18.7 percent share (+0.1) while Windows Phone has dropped to just 1.9 percent share (-2.7). As you can see, owners are ditching Windows Phone for Android, apparently because all Microsoft services are available for the platform.