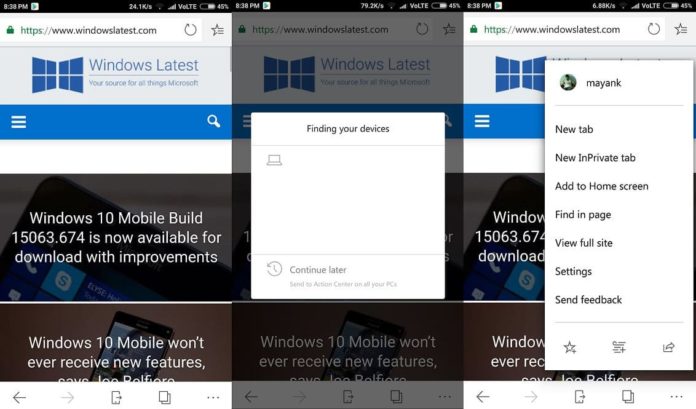 Microsoft recently announced Edge browser for Android and iOS devices. The new browser is in preview and available for the beta testers, as it is the preview version of Microsoft Edge, it comes with several annoying bugs and overall performance isn't really good on some Android devices.
Today, Microsoft is rolling out a new update to Edge browser for Android. The updated version of Microsoft Edge is now available for download on the Google Play and as noted above, it brings only bug fixes.
"We're working hard to make this the best browser possible. This update includes bug fixes and performance tuning. Let us know what you think," the changelog reads. Personally, I find Microsoft Edge faster than before. The animation open opening sites and accessing the hubs seems much better now.
As Microsoft couldn't port the EdgeHTML to Android, the Edge browser for Android uses the web engine from Chromium project. The only advantage of having Edge installed on your phone is the continuous browsing experience, as the browser is also available for Windows 10, having it across your devices not only improves the experience but it also syncs the content and data seamlessly in the background.
Microsoft is planning to launch Edge browser for the general public later this year. If you would like to test Edge on Android, you can signup for the beta program from here and download the app from the Google Play.