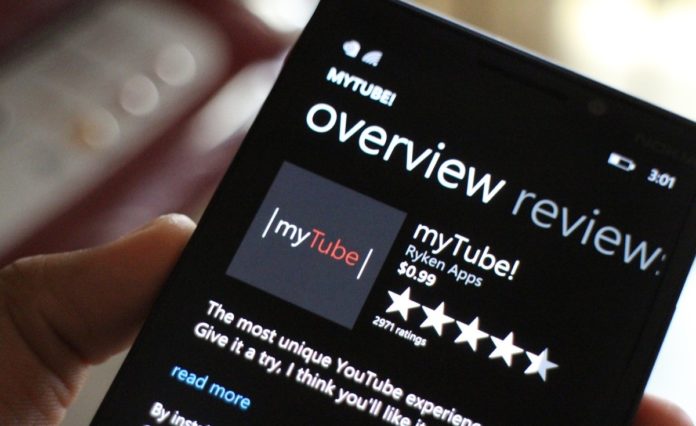 Ryken developers, the team behind the development of the Unofficial YouTube client for Windows has pushed out a major new update for its Stable version of the MyTube app. The update is available for all platforms including Windows 10 PC, Windows 10 Mobile and  Xbox.
The new update pushes the app to version 3.2.0. The developers have pushed out new features which have been under testing with the Beta App for some time now. The MyTube app has been updated across Windows 10 PCs, Windows 10 Mobile and Xbox One.
After the latest update users will now be able to remember the exact point and start the video from where they left. Users will also find a new button for changing the video quality which now has a Gear Icon and the video title will now be in Bold instead of the earlier small letters. Below is the full changelog of the features introduced:
Changelog:
Now you can remember the point of the video where you stopped and continue from there.
The button for changing the video quality now has a gear icon.
The title of the video is now written in bold.
Audio volume now changes when you move within a 1080p resolution video.
Changed the authentication code recognition method when signing in within the in-app browser.
Changed the algorithm used to switch from desktop layout to mobile layout on a video page only for PC.
The upload date of a video is present in the preview for both PC and Mobile.
You will now be able to view comments in Full Screen for both PC and Mobile.
After saving an audio file, the video will be opened as default in solo-audio mode on both PC and Mobile.
Double click on the mouse or the finger will now let the video enter full screen mode for both PC and Mobile.
Search time for a DLNA device has now been increased to 15 seconds on PC and Mobile.
User will now be able to get search tips while writing on Xbox with the new Search Tip option which has been introduced in the latest update.
Clearer title will now appear in the preview for the selected video for Xbox users.
Support for remote control rewind and fast forward buttons for Xbox One have been added.
You will now find a selected color border in the foreground and shadows around the preview of the selected video on Xbox.
Improvements have been made to the movement of the video in the PiP mode for PC users via mouse.
The update is a major one which introduces lots of new features and if you are a fan of the MyTube app for Windows, then you can get the latest update by clicking the below Microsoft Store link.