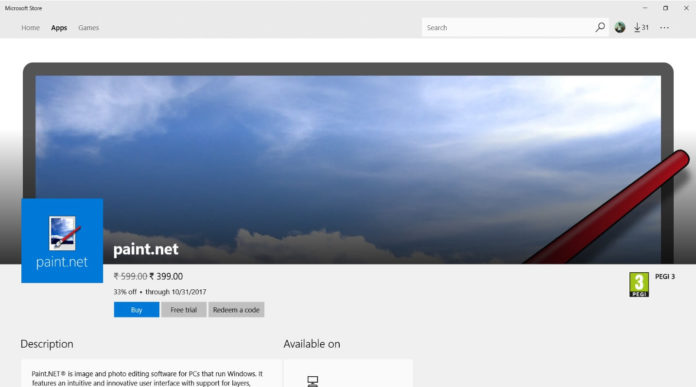 The popular versatile, image editing application Paint.NET is now finally available on the Windows Store for PCs and Tablets. The application is a more powerful alternative to Microsoft Paint and it has some features that are available in Adobe Photoshop.
Back in July, the developer confirmed that Paint.NET is being developed for Windows Store and it will be soon available for download. Today, Paint.NET is available on the Windows Store and you can enjoy a free 30-day trial. At the time of the announcement, the developer did confirm that the image editing application won't be available for free on the Windows Store.
Paint.NET has been around for well over a decade and it is being updated on a regular basis. The Win32 application can be downloaded from the developer's site for free whereas the Windows Store app is available for $5.99 (original value $8.99), you save $3.00 if you buy the app within 30 days.
The classic Win32 app will still be supported and available free-of-charge. As the Paint.NET is available on the Windows Store, you can now also use it on Windows 10 S device such as Surface Laptop.