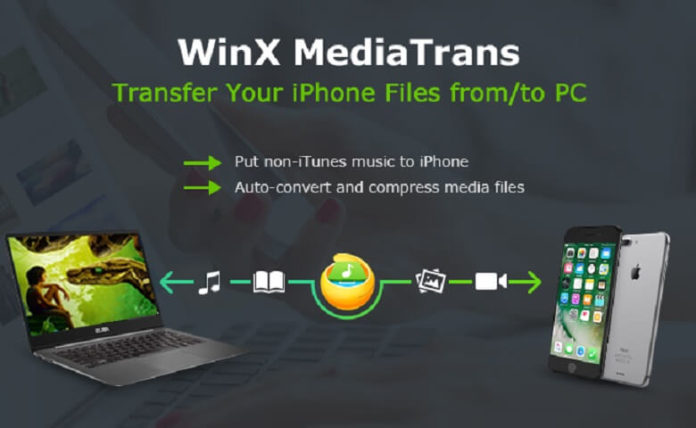 iTunes is an essential software for Windows users who own an iPhone. iTunes lets you transfer your files between your PC and phone. But iTunes isn't the best when we look at the features its alternatives gives when compared to it. When we talk of the Best iTunes alternative to manage iPhone on Windows there is one name that stands out: WinX MediaTrans.
WinX MediaTrans has a feature that lets you backup and sync your files between iPhone/iPad and PC without needing to install iTunes. There is zero data loss when you transfer files using this software. It's the best iTunes alternative not just because it has some really good features but because it will give you what iTunes lacks.
Ultra-fast Two-way Transfer
The user interface of this iTunes alternative is such intuitive that it makes the transfer of data across the devices as simple as copy-and-paste. In this way, you can manage your iPhone on Windows in a more familiar way. You won't be frustrated because of file disappearing issues of iTunes as has zero data loss guarantee. The program supports a number of formats of photos, videos, music, eBooks, Voice etc. With the Hardware Acceleration technology, WinX MediaTrans allows you to selectively or batch transfer iPhone (photos, music, videos, ebooks, etc) to PC just in a flash of seconds.
Auto Convert Video Audio for iPhone
Not just transferring files between iPhone and Windows PC, WinX MediaTrans also acts as a free video audio converter for iPhone. The software will auto detect and convert the unsupported iPhone videos to MP4 and audio to MP3. You can also create, modify and delete playlists and add songs to playlists with drag & drop support, or  create your iPhone ringtone from the music stored in your PC or iPhone directly from the WinX MediaTrans software. You can even uniquely unchain the iTunes DRM that will make M4V/M4P/M4A files purchased from iTunes Store playable in any devices.
Free up your iPhone iPad Space

I've seen many users still having trouble with storage in iPhone since the application size on the platform is high. And iPhone has the capability to record video in 4K. So, around 10 minutes of 4K video taken at 30 fps will occupy the upto 3.75 GB of storage. But with the WinX MediaTrans will help you to reduce the big video files size to 50% without quality loss on iPhone iPad, saving you valuable space on your iDevice. Meanwhile, you can export photos, videos, music, etc to PC to free up iPhone iPad space and make backup on PC. In addition, it can also remove iTunes DRM and took backup of the files which you purchased from the iTunes Store.
Another bonus feature of WinX MediaTrans is that you can use it to turn your iDevice as USB to store any files in case you forget to bring a flash drive to an important meeting.
The overall interface of the tools is very good and I am truly amazed by fast file loading and photo transferring speed, video auto rotation and converting feature. Significantly the tool is much faster while you transfer any files between your iPhone iPad iPod and Windows PC
The software has a free trial that can be downloaded from this link and users can also enter the giveaway and cash contest on the website page. Meanwhile, if you still a loyal fan of iTunes and have any questions while using it, you can visit this iTunes Errors FAQ page to get useful guides.