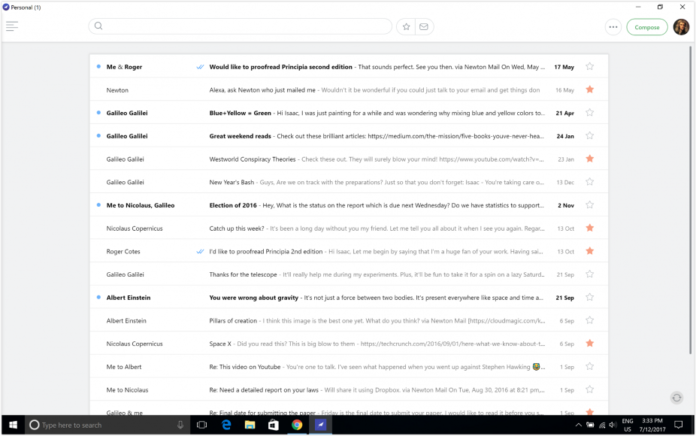 In June 2017 we had reported that Newton Mail app was available for download in Beta form on Windows Store. Newton Mail app is Cross Platform Mail app developed by Cloud Magic Inc which is already available on iOS, Android, and MacOS. Even this Mail app is also supported on Apple Watch and Android Wear.
Today the Newton Mail app has come out of Beta after nearly two months of testing.The app has a very clean look which is very similar to the Mac App. It supports native Windows features like push notifications and also allows users to read Receipts, send Later, Snooze, Sender Profile, Connected Apps and Undo Send options.
It also has a Focused Inbox section that would show the users their most important emails with a clean and distraction free conversation view. The Compose Mode has been developed in such a way that users will not have anything coming in between the email being composed.
Newton Mail app is a subscription based app which is available for a 14 day Free trial. There is a $49.99 per year for the subscription available after the free trial ends.