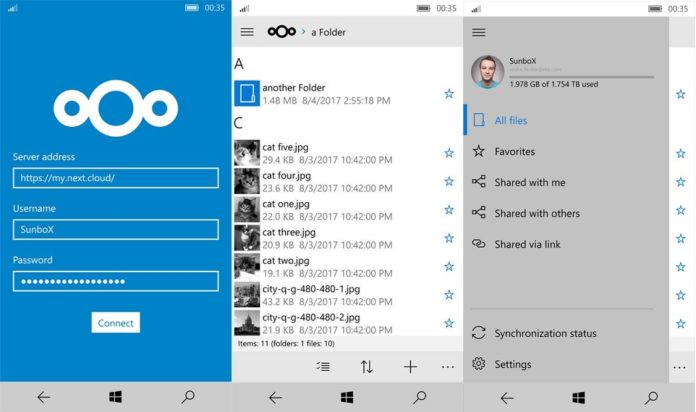 NextCloud has been updated for Windows Phones on the Windows Store. The updated version 1.1.0 brings a lot of new features and improvements. The developers have also promised to convert the app into UWP and it will be soon available for PCs, Xbox One, HoloLens.
NextCloud is available for $0.99 but you can also try the free version. The new version lets move, rename the files and folders. Furthermore, you can now also select multiple files and folders and you can download new files as ZIP. Here are the other changes introduced with today's update.
Files and folders can be moved.
(Manual) synchronization of folders with a local directory.
Whole directories can now be downloaded as ZIP files.
Multiple file and folders can be selected at once.
Files and folders can now be marked as favorite from within the app.
The size of folders is now shown in the directory list.
New status bar in directory list showing the number of selected/total files.
You can now also sort for data type in folder view.
New views for favorites and shares.
File and folders can now be pinned to start.
Windows Hello authentication on app startup.
Expert mode: Additional information and options, which are not relevant to every user, can now be shown by enabling the expert mode. Disable this option in order to get a leaner user interface.
The app can now be used when your Nextcloud uses a self-signed certificate.
Share target: you can now share files and folders with the app. For example, you can upload files to your Nextcloud directly from within the Windows Files app.
Theming: you can now choose between different app themes (dark/light/system default).
The user credentials are now safely stored in a password vault.
We now use a new and more stable WebDAV library for WebDAV communication with your Nextcloud.
Many other security improvements and bug fixes.
NextCloud app lets you access all your files on your Windows Phone. The app is available on the Windows Store since November 2016 and since then the app has achieved huge popularity.