Kantar has recently released its Smartphone Market share numbers for 3 months ending May 2017. When we look at the numbers of Windows Phone sold there is no element of surprise. Windows Phone sales are continuing to decline as seen in throughout this year.
But Kantar's numbers have surprised us by the fall of iPhone market share in various key markets of Europe. Apple's iPhones have seen a drop in sales in the UK, France, and China and Android is the one which has gained from the lost market of Windows and iOS devices.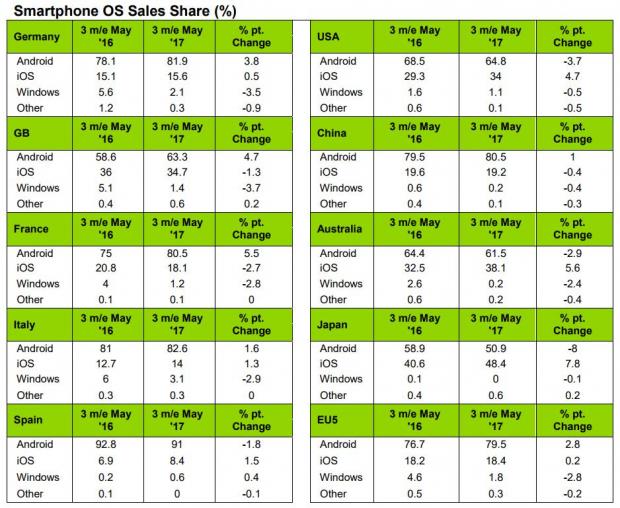 When we look at Windows Phone sales it has seen 3.5% drop Germany, 3.7% drop in Great Britain, 2.8% drop in France, 2.9% drop in Italy, 0.5% drop in the USA, 0.4% drop in China and 2.4% in Australia. While to everyone's surprise Windows Phone has seen growth in Spain of 0.4% in the market share. In Japan, Windows Phone has reached 0% market share.
Another thing that stands out in the latest market share data is that in the USA Android has seen a drop in market share by 3.7% while Apple's iOS has done very well here and has seen an increase in market share by 4.7%.
It really sad to see that Microsoft's Windows Phones are now reaching to their lowest share each day.