Microsoft has again delayed the launch of Alcatel Idol 4 Pro in the UK. This is now the second time that the Idol 4 pro has been delayed from its scheduled release date. Microsoft had earlier planned to release the phone on July 26th and then they updated its page for 7th August release date.
And this time Microsoft has changed the release date of the Idol 4 pro from 7th August to 10th August. Even though it's now far away from today but a delay is a delay. You can see in the image below that the new release date is now displayed on the pre-order page.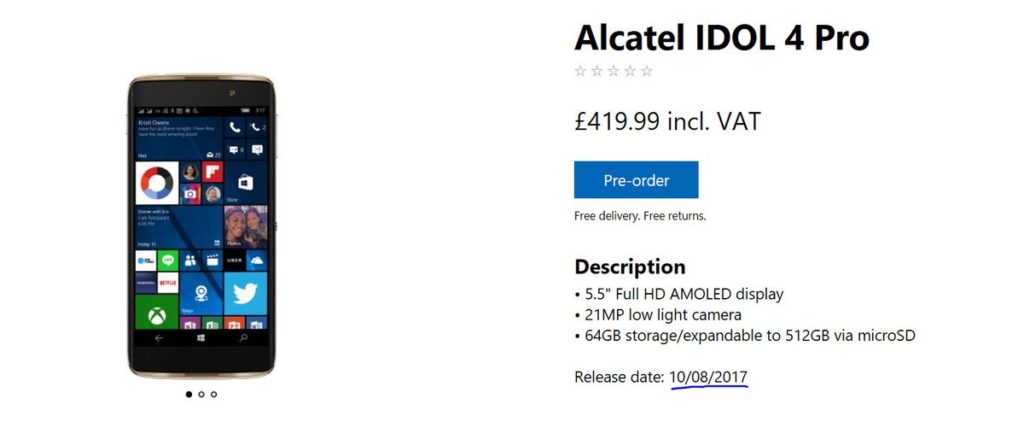 Alcatel Idol 4 Pro is a really nice smartphone to experience Windows 10 Mobile. It has a beautiful 5.5-inch Full HD AMOLED display with 16M color. There is dragontrail glass and oleophobic coating on the display of the phone to protect the phone from damage which makes it both easy to use and tough to destroy.
When looking at the specs of the device it is powered by an older Snapdragon 820 processor with 4GB of RAM and 64GB of storage. There is a 21MP main camera with fast-focus and improved low-light performance, 8MP wide-angle front camera. Windows 10 Mobile's Continuum feature is also supported by the device which will turn your smartphone into a perfect productive PC.
Pre-order Alcatel's Idol 4 Pro with Windows 10 at Microsoft UK Store for £419.99.