AceThinker Video Master offers a powerful and versatile tool for converting video files simply and easily. Choose between a range of the most common video formats. Take a video file and convert it without losing any quality, while also having the option to customise it through a list of built-in editing tools. AceThinker Video Master is bound to become your go-to when you need a powerhouse for editing a video. It's also a great choice for the video editing newbie thanks to the modern, simple, functional interface.
Try A Free Demo You Buy
There's no need to hesitate if you're interested in trying out AceThinker Video Master for yourself as you can download and install a free trial version of the software. It gives you a chance to get to grips with the software and try it for yourself before choosing to purchase it.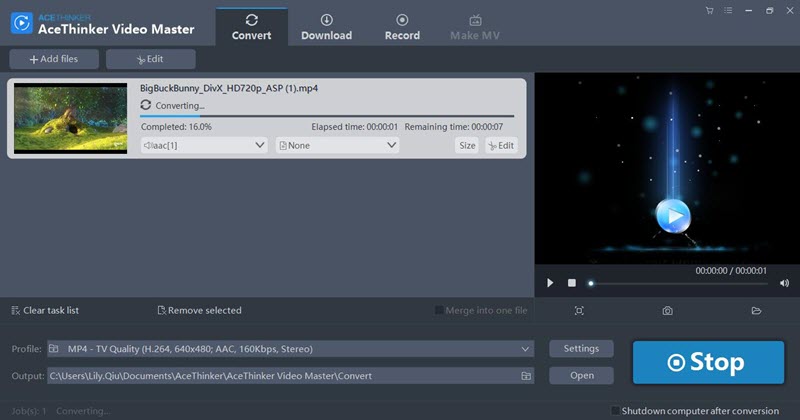 Just open up the official AceThinker Video Master website to download the program. Install the program after it finishes downloading and you can get started right away. It couldn't be simpler.
After installing and opening Video Master, you'll be able to quickly and easily navigate the user-friendly and super simple interface. It takes just a few clicks to convert your video files. The most simple way to get started is to click the "Paste URL" button to start downloading the online video. There is a lot more to discover with AceThinker Music Video than just what you see by looking at it. You'd be surprised by what this tool can do.
After downloading the video, users can click on "Convert" tab to customize, resize, and reformat the video. You can also do some editing to the video, including cropping, trimming, adding a watermark, adjusting the brightness of the video, and playing with saturation options to intensify the colors. AceThinker Video Master puts you in complete control. Users can also convert the file into a range of formats including AVI, MP4, and WMV. You also have the option of editing the size of the video to make it compatible with just about any device there is.
On top of all this, AceThinker Video Master comes with another special feature known as the MKV editor. This tool allows users to import as many images as they want and create a slideshow with them to be saved as an MKV file. There are options to add special effects between images to make the slideshow feel more professional.
AceThinker Video Master offers a range of convenient options to make converting and editing video files as pleasurable and simple as possible.
Pros:
AceThinker Video Master can support just about every common video format, which can be accessed through a well-defined and transparent menu
The program makes video conversion a simple and easy process
Cons:
There are some restrictions placed on the Video Master trial version as far as functionality goes. It's recommended you get the premium version to enjoy all the great benefits of this piece of software.