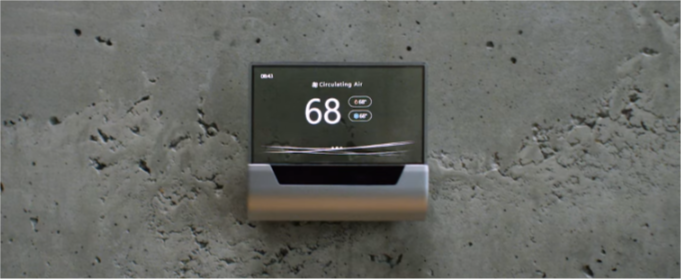 Microsoft had yesterday unveiled a new thermostat made by Johnson Controls and is named GLAS running on Windows 10 IoT core. They posted a Youtube video on their official channel for the introduction of the thermostat and you can see it below. GLAS is made by Johnson Controls and it is the first thermostat powered by Cortana and Azure IoT.
The thermostat has voice activation through Cortana and looks really elegant on any wall because of its translucent touchscreen display that perfectly matches the esthetics of the room. GLAS will constantly monitor the indoor and outdoor air quality. It can intelligently change its settings so as to provide energy savings. Users can change the temperature of the room, check the usage of electricity and can also check the air quality. GLAS's daily reporting helps to use the insights to create a perfect atmosphere of the room.
Cortana would also be powering the Harman Kardon Invoke speakers soon when it launches. Microsoft had announced that they have partnered with audio and video device manufacturing giant Harman Kardon for launching voice-activated speaker featuring Cortana.
Microsoft has not mentioned about any Date-Time of availability of the device and neither they have mentioned anything about the Market where it will be available. We will let you know as they reveal anything about it.