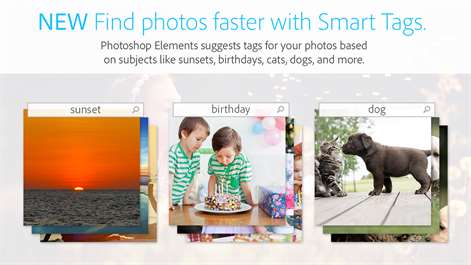 Adobe had last year released its Adobe Photoshop Elements 15 app for Windows 10 PC and Tablets. The app was earlier priced at $99.99 on the Windows Store. And now Adobe is offering a $30 discount on the app for about two weeks which means the app will be now available for $69.99.
Adobe Photoshop Elements 15 is a solution that allows you to perform a series of operations in an intuitive and fun. Here's what you can do:
Organize – It's easier than ever to find photos based on the people portrayed, to the places where they were taken and the events they represent. And now you can also find photos according to your subjects, such as sunsets, birthdays, cats, dogs and more.
Change – Make every extra special snap applying all the finishing touches you want, with a click of corrections to artistic effects. Photoshop Elements can guide you through the steps, or take care of it for you.
Create – Surrounded by your memories by creating beautiful collages, slideshows, calendars, cards and scrapbook pages.
Share – Share with friends and family by choosing the mode that best suits your needs: Facebook, YouTube, Vimeo, Twitter and more.