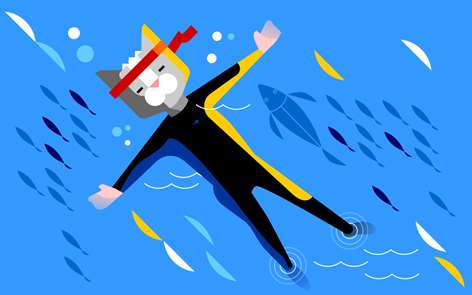 Windows insiders knows Ninjacat as a fun icon for Windows 10 insider program of Microsoft. Even Microsoft had recognized it several times and one they had released Ninjacat official wallpapers as well. And now Microsoft has added a "The Adventures of Ninja Cat Beyond" Windows theme in the Windows Store. The theme description says "Everybody's favorite feline martial-arts hero boldly goes where no cat has gone before." The theme has wallpapers of Ninjacat in it's journey to adventures of different places.
Here is how you can get this theme for your Windows 10 device:
1. Download the theme The Adventures of Ninja Cat Beyond  from the Windows Store here.
3. Click on install.
4. Windows will automatically unpack the theme after the installation.
5. You will find the themes in Settings -> Personalization – Background and Click on the theme to apply it.
Back in October, Microsoft announced the Windows 10 Creators Update and demonstrated some of the features at the Windows 10 event in October. One of the cool thing about among that was the new themes available in Windows Store. And their installation is as easy as like installing an app. There are a lot of beautiful theme available on Windows Store