Microsoft in February, had announced its Skype Lite app built for Indian users. The Skype Lite app was launched for low end Android Smartphones to offer light weight , data friendly messaging, sharing and calling experience.
The Redmond Giant had also announced that it will soon be launching Aadhaar Integration identification program to the users on Skype Lite for India. Today the company has finally made the Aadhaar Integration for Skype Lite users live in India.
Aadhaar which is a 12 digit unique identity number is issued to an Indian resident based on their biometric data which is collected by Unique Identification Authority of India (UIDAI). Now with the latest Skype Lite update, users in India can now verify Aadhaar Integration identity online which helps them in communicating more securely with the opposite person. The Integration works for both parties and can be verified at the beginning of the Skype Call which is basically aimed at reducing or eradicating Online Frauds.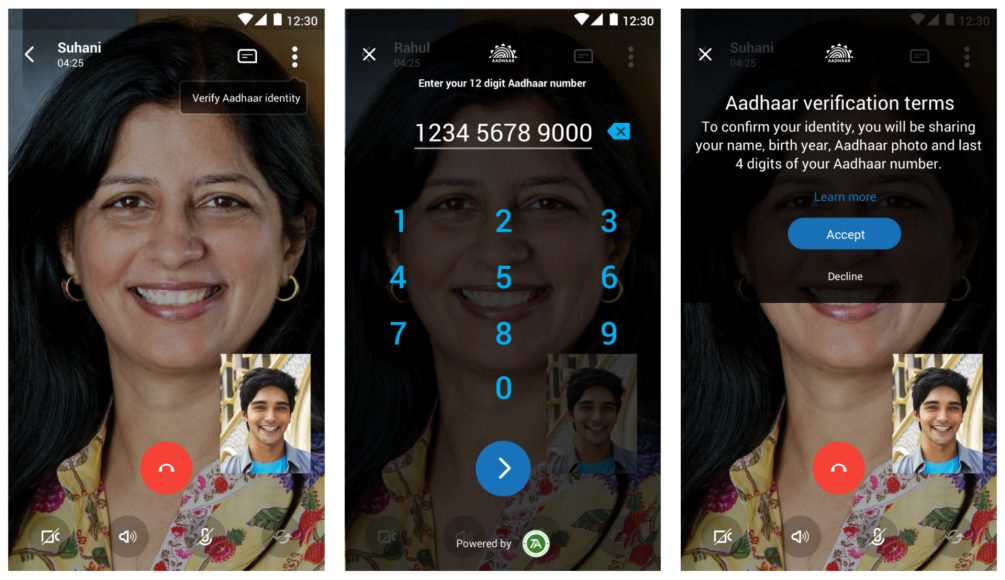 The Adhaar Integration also helps in verifying candidates' identity if the interviewer is seeking an Skype interview for a job requirement. Microsoft has also promised that Skype will not be storing any users' Aadhaar data after it being verified before the call.
Either Users in a Skype call can request for Aadhaar verification by clicking on the Verify Aadhaar identity and punch in the Aadhaar number followed by the One Time Password for verification.
The Aadhaar verification happens when both parties are on a call without having to moving to the Aadhaar website. Currently the Skype Lite does not support biometric authentication but we expect the same to be introduced soon to have a seamless verification experience.