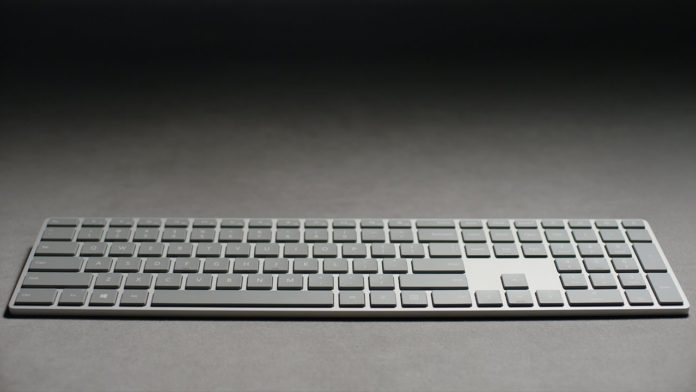 We have reported last month that Microsoft is working on a Modern Keyboard which had received it's FCC verification on 9th March 2017. And Today Microsoft has officially announced it. If you have seen the Surface Keyboard that was launched alongside the Surface Studio you won't find any difference at all in the way how it looks. But this keyboard has one major difference that is it comes with Fingerprint ID sensor which means Windows Hello Fingerprint Authentication can be available to any Windows 10 device to unlock your device.

The fingerprint sensor is placed as a separate key for the keyboard as you can see in the screenshot of the introduction video of keyboard. This keyboard is made of aluminum frame which is not only lighter but also a lot stronger than others that are available. This new modern keyboard can be used both as wired or wireless. The wired mode allows it to be connected to PC via USB cable while the wireless mode will be using a rechargeable battery rather than having AA cells.
This keyboard is compatible with the devices running Microsoft Windows 10 / 8.1 / 8 , Microsoft Windows 10 Mobile , Mac OS 10.10.5/ 10.11.1/10.11.4 , Android 4.4.2-5.0. The host device must support Bluetooth 4.0 or higher to be able to use it. It will be available for $129.99 soon.