With growing number of website that uses online payment it is necessary that you must make sure that the company and their website is safe to be used. By safety I mean that whatever data you provide during online shopping whether its personal data or credit card's data it must not get in the hands of criminals.
There are different  ways by which you can ensure that the website you use and your data is secure.

First, whenever you are visiting a website you must make sure that the website address bar starts with https:// not http:// (s in https:// is meant for those websites which have secure connection). Another very important thing you must check is a Padlock symbol near the address bar (or anywhere else) in your browser. Ensuring these two things will mean that your data is first encrypted before it is moving out of your device and until it reaches the website's owner company it is impossible to decrypt the encrypted codes of data. This means it will be secure and reach the company whose website you are surfing without any possibility of hacking from the hackers.

But what about the company whose website you are visiting? How do you know whether the company is trustworthy or fake? Well, you can detect this also from your browser's address bar which will turn green when you visit a trustworthy website that has been provided EV SSL certificate from certificate authorities. These authorities provide certificates to websites only after reviewing with a pre-determined procedure.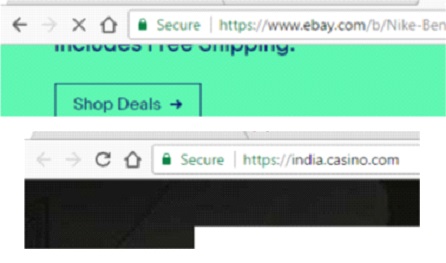 So, if you visit some website that has a red color in address bar then it would mean the website is not secured and hence not safe. For example, you can see in secure websites online casino sites such as casino.com and in online shopping websites such as ebay.com the address bar has https:// with green (secure) and a padlock. 
""