Microsoft has today announced new features to Outlook mobile apps on iOS and Android. One of them being the ability to add and edit contacts right from the app for Outlook.com and Office 365 accounts. Now you can also use the search bar in the People tab to find and add contacts from the directory of your company. Microsoft has also said they are planning to add support for Google contacts soon. Microsoft says they are addressing one of their most highly requested features by improving the People experience in this update. So now to create a new contact simply tap the + sign in the People tab.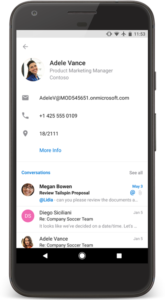 The contact card has also been redesigned by putting key details of your contacts at the front and center. Now when you tap on any name in the messages for accessing contact details you would see phone numbers, email addresses and other details. Contact card now also displays your recent conversations on message or outlook mail along with shared attachments and other such stuff. Not only you can fully manage your contacts in Outlook, from now on you  get the ability to save your contacts into the default Contacts app of their respective platforms.
This update for Outlook on iOS is available to users and would be coming soon on Android.