Today after a lot of wait for students , CBSE (Central Board of Secondary Education) have finally declared the results for All India Senior School Certificate Examination (Class 12th) 2017 results. You can check your results by going to the official website of CBSE and enter your details there. But Microsoft has and  gone one step ahead made it a lot easier to check your results by bringing your results directly by searching on Bing search engine.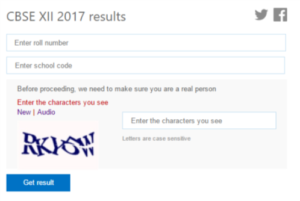 Use the following steps to find out your results on Bing search engine:
first go to bing.in
Search 'CBSE 12th 2017 result' on the Bing search engine
Enter the roll number and school code in the available form of the search results.
Enter the captcha code to confirm that you are not robot
Click on 'get result' button to get your results.
It's good to see that Microsoft trying to help students getting their results directly from the search engine itself. Microsoft has been trying really hard over the years for compering with google search all over the world. Microsoft Bing search engine has been getting a lot of attention in the United States and has been getting increase in market share month by month.