At the Day 2 of Build 2017 Microsoft's Terry Myerson has today announced a brand new design system ( aka Project Neon) for the upcoming Windows 10 Fall Creators update (Redstone 3) which they call the "Microsoft Fluent Design System".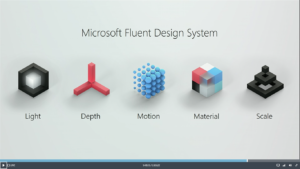 We are already seeing the initial Project neon UI builds in various first party apps like People, Calculator , Alarms, Photos and more..
Earlier today the Vice President of the Windows Developer Platform at Microsoft Kevin Gallo, told us that the Microsoft Fluent Design System will be a journey for Microsoft and Windows 10. Which means that the update won't be bringing the whole of the new Microsoft Fluent Design System to Windows 10. Microsoft says they will be evolving it over the years and would be part of longer process of redesigning windows.