WhatsApp team today released a new update for its App on Windows Phone and Windows 10 Mobile. The update has bumped the app to  new version 2.17.140. The latest update for the app comes with an "Unsupported Media and Messages Bug".
Users are requested not to update the application to the latest version for WhatsApp Beta since you will not be able to receive any New Messages or Media but will be getting a message stating "You received a new Message but your version WhatsApp doesn't Support it".(Screenshot Below)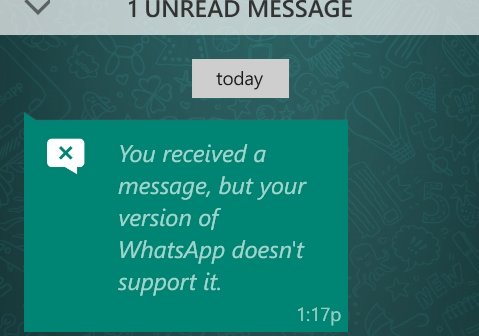 The Above Unsupported Media bug has been confirmed by our friends @WABetaInfo with the below update.
WhatsApp beta for Windows Phone 2.17.140 has a bug that prevents you to receive media messages. Don't update.

— WABetaInfo (@WABetaInfo) April 26, 2017
Hence, we @WindowsLatest request our users not to update to the latest version 2.17.140 of WhatsApp Beta and await for a new update to the version. Till then please use your WhatsApp with the earlier version of 2.17.138. If users have already updated then they would need to wait for the bug to be fixed with a new update.