After releasing the Windows 10 Redstone 2 aka the Windows 10 Creators Update, Microsoft now all set to launch the a special edition of the Windows 10, the Windows 10 Cloud.
In case if you don't know Windows 10 Cloud is specially designed for the education purpose and by targeting students. Windows Cloud is expected to be Microsoft's take on Google's Chromebooks. Meanwhile the minimum specification to Windows 10 Cloud leaked online. The document reveal some benchmarks and recommended minimum specs can last all day.
Other recommended minimum specification says the device will have Quad-core (Celeron or better) processor. Furthermore it will have 4GB of RAM and 32GB of storage (no information about whether it can be expand or not). In addition the device will have a 40 WHr of battery which will last long till 1 day. And of course the pen and touch support.
Here's the leaked document which also compares the performance benchmarks of a CloudBook with a Chromebook.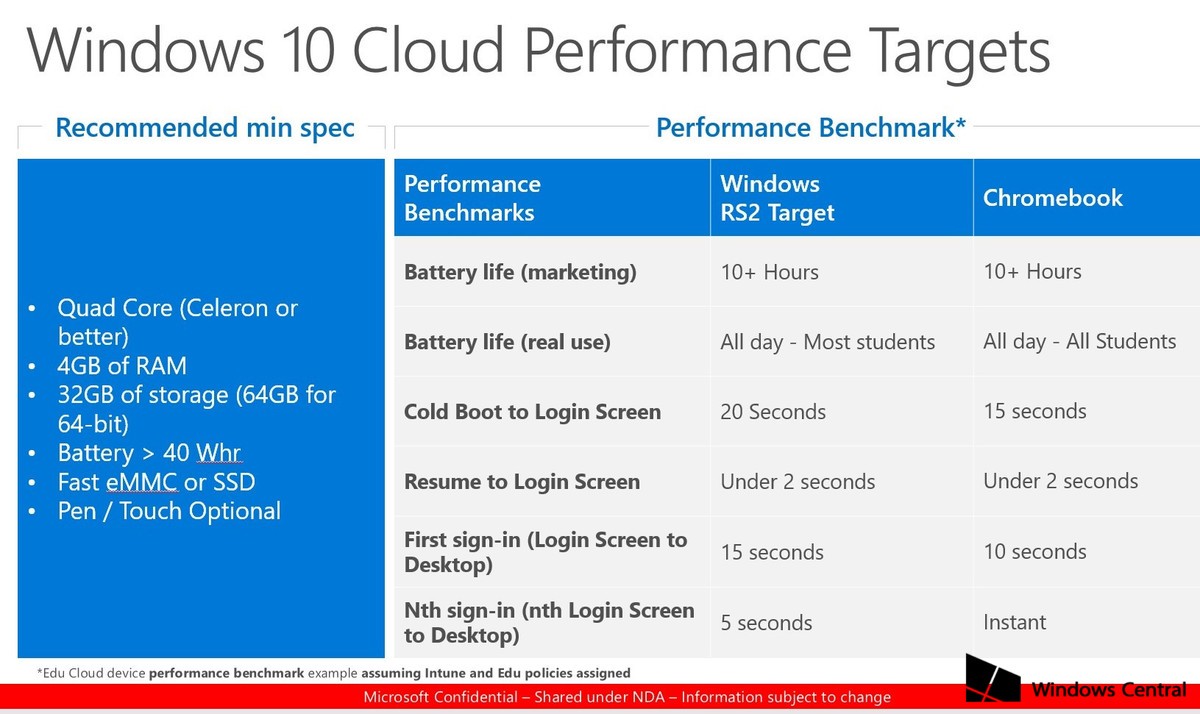 Well, of course this is not the high-end device since the Windows 10 Cloud is designed for the students. So the device would be cost around $300-$400. And in case if you don't know Microsoft is all set to launch the new this new device at #MicrosoftEDU event. #MicrosoftEDU event will be live streamed online, and it will be happening on May 2nd at 9:30 am Eastern Time (6:30 a.m. Pacific Time / 13:30 GMT). Stay tune to Windows Latest for more update.
Are you looking forward to buy this device? Let us know in a comment below.