After revealing their Ryzen 7 lineup, AMD is back again with another series of its processors, the Ryzen 5. Targeted at the midrange segment, these processors seem to be really a sweet deal for the price.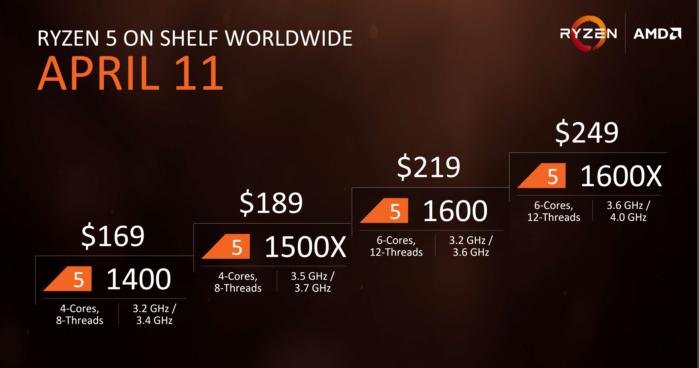 The Ryzen 5 lineup contains 4 new chips,
Ryzen 5 1400, (4cores, 8threads), 3.2Ghz to 3.4Ghz(boost) at $169
Ryzen 5 1500X, (4cores, 8threads), 3.5Ghz to 3.7Ghz(boost) at $189
Ryzen 5 1600, (6cores, 12threads), 3.2Ghz to 3.6Ghz(boost) at $219
Ryzen 5 1600X, (6cores, 12threads), 3.6Ghz to 4.0Ghz(boost) at $249
All of these chips will come unlocked and feature AMD's XFR(eXtended Frequency Range), so they will have some good overclocking capabilities. The Ryzen 5, is going to take on Intel's i5 series of chips, and by looking at the specs and price, undoubtedly, AMD is the clear winner. But again, benchmarks have not yet been done, so it is still a waiting game to see where the Intel vs. AMD war heads to.
The Ryzen 5, will run on AMD's new AM4 platform, and thus support DDR4 RAM, dual PCI-E lanes and other bells and whistles. Surprisingly, AMD has recommended the B350 motherboards for its Ryzen 5, unlike the enthusiast series X370. All of the chips will have 65W TDP, except for the 1600X, which will have an acceptable 95W.
AMD's Kevin Lensing has taken a direct shot at Intel by saying that the Ryzen 5's selling point will be "tremendously more computational power". The 1600X, costing a bit more than the i5 7600K, will have 3 times the thread count. The Intel i7 still remains in the $350 and above range, so Ryzen 5 could disrupt both the i5 and low end i7 markets.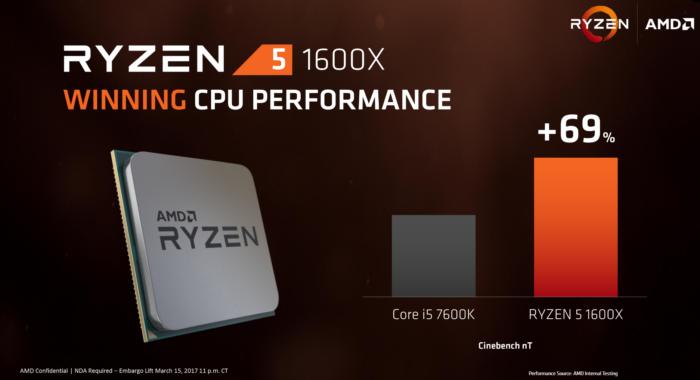 The processors seem to be aptly priced against their Intel competitors and if the benchmarks sway in favour of Team Red, AMD will grasp a huge market. The interest for AMD's Ryzen chips have tremendously shot up after their Ryzen 7 reveal, and with Ryzen 3, targeted at the budget market, coming in the next few months, the scale might tilt towards Team Red after almost a decade. Team Blue vs. Team Red, was never so much exciting before.