Windows Phone fans have another death knell sounding, the IDC has predicted that market share for Windows Phone will get to 0.0% by 2021. While not surprising, it sure is painful to hear the slow and unceremonious demise of our favorite Mobile OS.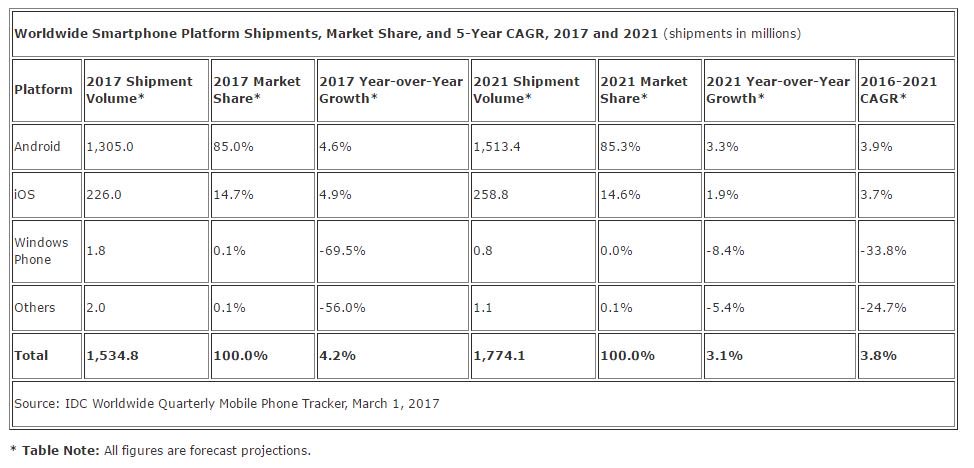 Windows Phones always had a special place in the mobile segment. From its introduction it was praised for its refreshing design, and the superior phones Nokia made. The legendary HTC Titan, Nokia Lumia 920 and 1020 were widely hailed as the behemoths in the mobile market. Fans loved it and it would have solidified its place in the world, if Microsoft had not unceremoniously dumped it. Sure it is being developed as Windows 10 Mobile with new updates now and then, but with no major OEMs(except HP), it is pretty much non existent in the hands of consumers now.
From IDC's report,
Windows Phone continues to decline as a share of the smartphone space as many OEMs have given up producing phones for the platform. As a result, IDC expects 2017 volumes to decline 69.5% to just 1.8 million units. It is unclear at this time if Microsoft has a clear plan to persuade OEMs to get back on board with the platform, or if it plans to release a device itself like it did with Surface devices. Until this production question is addressed, IDC doesn't see a clear path to turning around the platform.
With iOS and Android being the solo players in the turf, Windows Phone is almost but dead. An immediate shot in the arm is needed to regain the turf, and Microsoft is supposed to turn the tables with the much anticipated Surface Phone. But we fear it may arrive too late and a mobile OS with no active and popular OEMs(again except HP), will fail to make any mark on the mobile industry.
Read the full report here, and see for yourself.