The IDC in a recently conducted survey has predicted further growth for Windows detachables and Notebooks. IDC also concludes that iPad sales will fall as the tablet market is reaching to a standstill.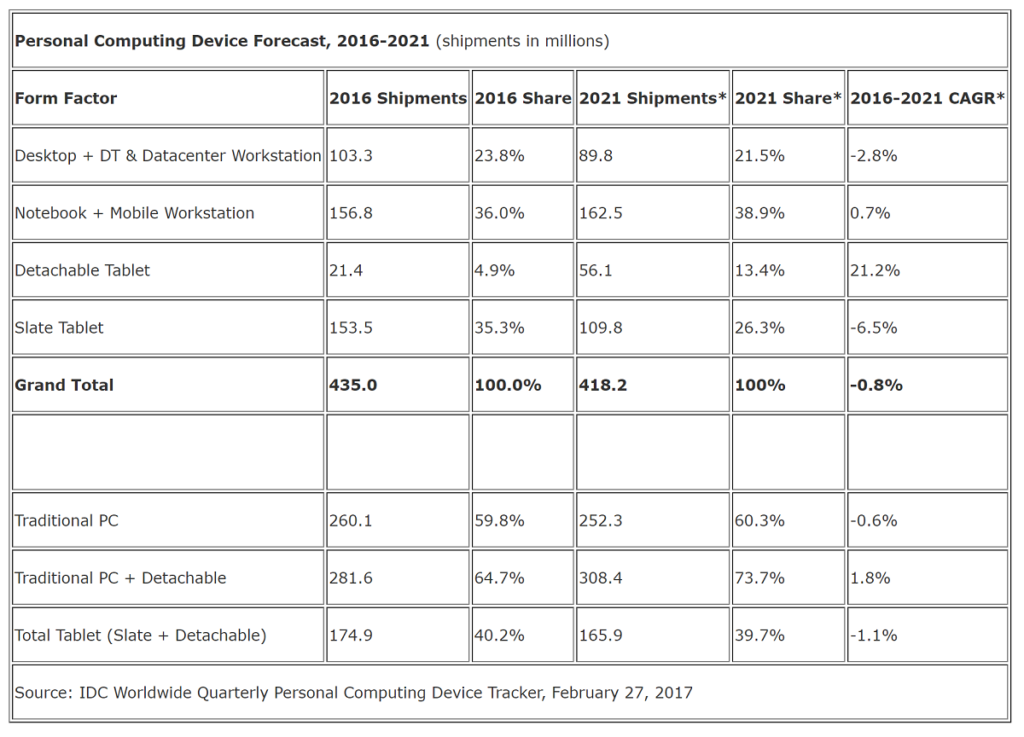 IDC states that the interest in PC market is getting lower every year while the detachable market is expereincing a growth. The Tablet market is also facing a threat as more consumers are moving to Windows 2-in-1 devices rather than going for Apple's iPad.
"Regardless of what marketers are saying, detachable tablets are simply not putting pressure on notebooks yet," said Jitesh Ubrani, senior research analyst, Worldwide Mobile Device Trackers. "Consumers are just starting to graduate from old, consumption-based, slate tablets to a more productive detachable tablet. At the same time, the benefits of having a thin, touch-sensitive, productivity-based machine is shining light on the traditional PC category, causing vendors and consumers to focus on more premium devices in the Convertible and Ultraslim space."
The prediction is favorable for Microsoft, as they are heavily promoting and investing in 2-in-1 and cheap Windows 10 devices. Also Microsoft is going to introduce further improvements to Windows Ink in the upcoming Creators Update, which focuses a lot on touch based operations for touchscreen devices.
"As the tablet market works through the challenges of a maturing user base, the notebook ecosystem has seen success in assimilating a more mobile experience to the form factor while retaining its inherent superiority in the content creation arena, which remains critical for commercial buyers. Absent major external forces, IDC believes the notebook and traditional PC market overall will see relatively stable volumes with some growth in more mobile designs offset by declines in less mobile products," said Jay Chou, research manager, Worldwide Personal Computing Device Tracker.
The report can be read in details here.