Viber in a reply to email to one of the user, has confirmed that the company has currently Paused the development for its Windows 10 PC and Mobile App until further notice. The company says that the development will be paused until any further  notice.
The email does not state or give any timeline as to when the company plans to start pushing the updates for the Viber App for Windows 10. Below is the Email text.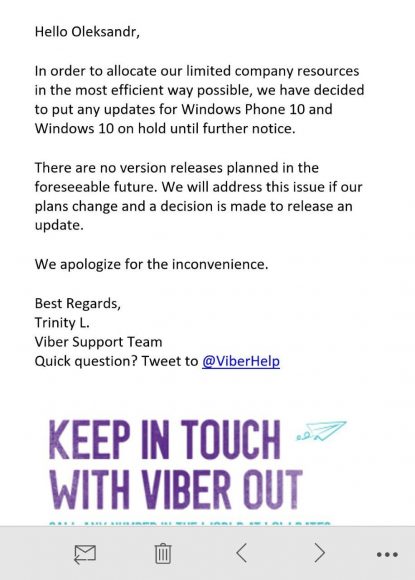 The email suggest that the company is planning for a reorientation of its human capital in order to optimize it as best as possible, and it seems that among those plans is to move personnel to the most used platforms in the market. It all depends on whether there are major changes to the application that involve resuming development for Windows 10.
This could come as bad news for users of Viber App on Windows 10 since the company had maintained a good pace of development for the Windows 10 App both on PC and Mobile.