MultCloud Service: Free App for Best Cloud Storage Manager Services
MultCloud, accurately speaking, is not a traditional cloud drive, but to provide a kind of service to manage files across mutual cloud drives. Released on 2012 by AOMEI Tech, MultCloud has made a big progress during the complex baptism of Internet cloud drive storage service. It provides a simplified solution to tie the most popular cloud drives together and transfer files between them without uploading the repeat files again.
With the new release of MultCloud, 28 popular clouds drives could be added in the supporting service. It includes from Google Drive, Dropbox, OneDrive for general users to FTP, MySQL, Amazon S3 for webmasters. It offers the easiest way to let user operate all steps on the Cloud drive directly instead of install the client on your computer. MultCloud has two plans. One is the free plan with 2TB limited bandwidth and another is premium plans. You can get more privileges and features with monthly, quarterly and yearly subscribes.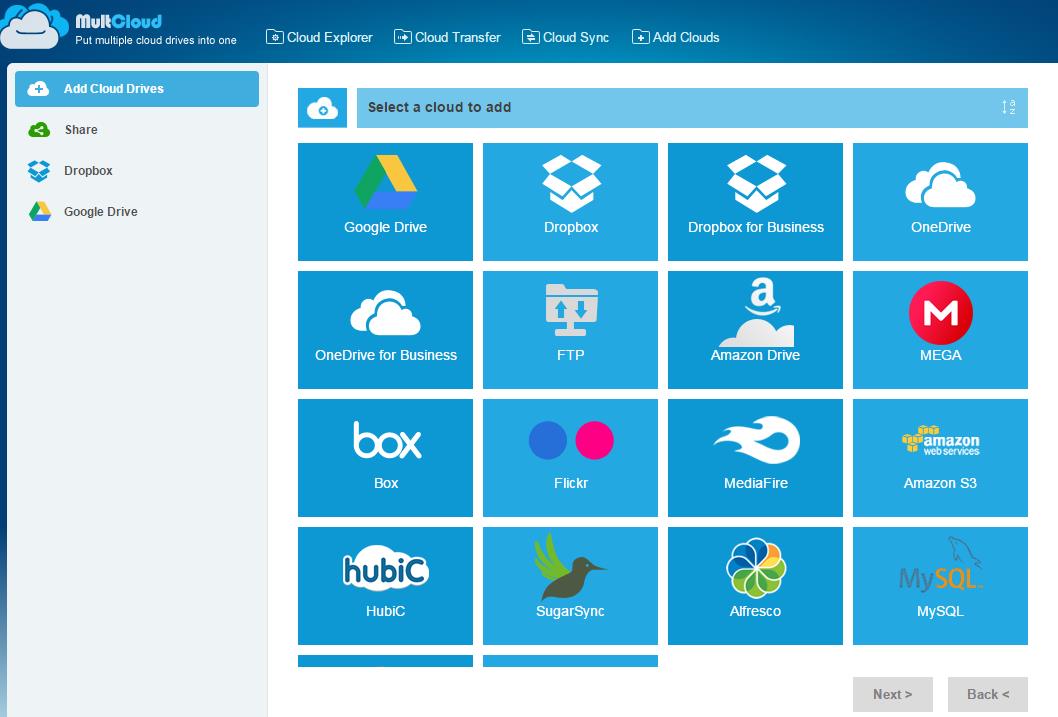 Main Features about MultCloud
Transfer files between clouds – After you tied all your cloud drives with MultCloud, you can move, copy or backup the file in one cloud to another cloud. For example, if you want to transfer the files in Google Drive to Dropbox, just drag the files to Dropbox from Google Drive. It saves your time especially when the files you want to transfer contains large data. It supports to transfer data between the same cloud with different accounts as well, let's say, transfer files from Dropbox to Dropbox.
Combination of multi-clouds space & cloud explorer for multi-clouds– It's very helpful for those users who have few budget on cloud storage. If you want to bigger storage space in clouds, you should pay for the advanced plan. If you connect all the clouds you have, you could combine multi-cloud space at hand so that to get unlimited cloud storage free. Then, you can find the specific file on the search item easily.
Sync & backup data on multi-clouds – With the eight custom options to sync file between clouds, you can quickly achieve cloud to cloud backup. There is a feature that you can make automatic scheduled sync backup with a regular interval. You should distinguish the difference between one-way sync with two-way sync if you want to backup your data. It could save more storage space if you have a better understanding with the difference.
Cloud offline download & offline cloud transfer – The meaning of offline cloud transfer is that you can proceed the transfer progress even your device is power off. You needn't worry the rest and MultCloud will take over all things. If you find a precious tutorial video and you want to save it, just add the link to cloud drive, MultCloud will upload the tutorial to cloud automatically.
New features in MultCloud 4.2:
Added the gift system to win points so that to gain the unlimited data traffic;
Added multiple languages: supports English, Germany, Simplified Chinese and Traditional Chinese;
Enhanced the share function.
As mentioned at the beginning, besides the free plan, MultCloud provides premium plan based on monthly, quarterly and yearly subscribe. Monthly subscribe is $7.99, quarterly plan is $19.99 and yearly plan is $69.99. Check the exclusive features in the premium plan below and register it to have a try.