Performix's Adguard is an advanced and quite popular suite of web filters and ad blockers. Unfortunately, it doesn't come free like the most common ad blocking web extension but today, the extension for Microsoft Edge appeared in the Microsoft Store.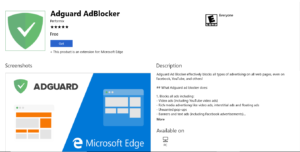 We don't know much yet, no announcements were made by Performix and there's no trace of it on their website. Anyway the extension has been in active development for a while now, as you might see in this GitHub repository. So, if you're willing to try the extension, here's the link to the Store
We'll keep you posted in case of official announcements or something else about this extension.