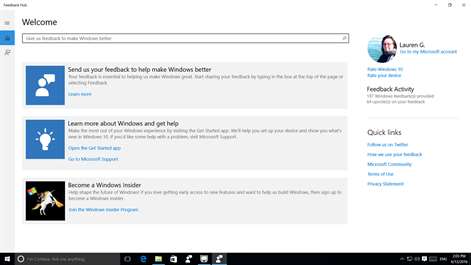 Microsoft today pushed out a new update for its Feedback Hub App for Windows 10 PC and Windows 10 Mobile. The app has been bumped to new version 1.1612.10251.0.  The company with the latest update has introduced lot of new features. Below is the full changelog of the features.
Changelog:
"A few months ago, we asked you what was one of your biggest pieces of feedback about the Feedback Hub. You said, "too many duplicate pieces of feedback!". We love working with you to create a better experience for everyone using the Feedback Hub, so today we are so happy to announce Collections. Collections are now live in Feedback Hub starting with app version 1.1612.10251.0.

A Collection groups together feedback for similar problems and suggestions into single items that bring together all the voices who expressed that sentiment in one place. All of your individual voices will be amplified when your feedback and upvotes are joined together into collections, and you'll be able to see just how big your voice can become. Same as with individual feedback, you'll be able to upvote Collections, upload screenshots to show the engineering team a problem you're seeing or a suggestion you have, and comment on the feedback with others.  

Thank you for your feedback, Insiders. Because of you, the Feedback Hub is becoming better for ALL customers."
The update for the App is currently live and you can download it by clicking the below link.