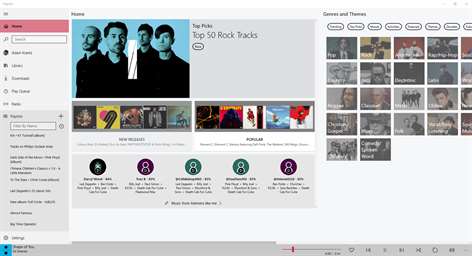 Napster is a new Streaming music service for Windows 10 Devices. The Developer of the Napster app has updated the app in Windows Store. The app has now been updated as a Universal App for Windows 10 devices. The update brings with it new Design changes in the UI and more features. Below is the full changelog:
Changelog:
The revamp looks much more modern, incorporating Windows 10 design elements throughout.
There's a dark theme all over, along with a pretty straightforward set of navigation buttons on the left side and player controls across the bottom.
The app is a UWP app and is available for Windows 10 PC and Mobile.
Features:
Dive into a catalog of millions of songs
Play full-length albums and top tracks
Create playlists for any occasion
Save all your favourites to your library to play whenever, wherever.
The update for the app is currently live and you can grab it by clicking the below link. Do let us know your experience of the Napster App after the update, in the comments below.