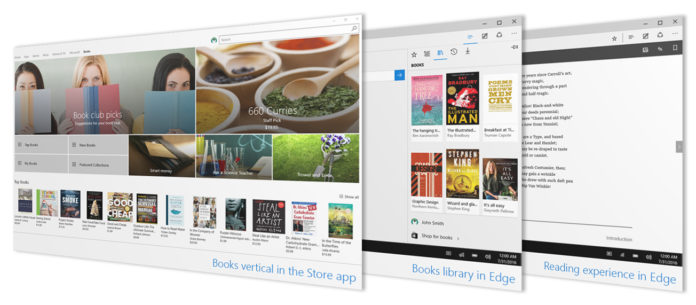 Microsoft released Windows 10 Insider Preview Build 15014 with the many new features and improvement over the last public preview build which was 15007. One of the notable thing found in the Build 15007 is the all new section for Books in Windows Store.
User running Windows 10 build 15014 can now purchase e-books directly from the Windows Store and read them in Microsoft Edge. However this functionality only available in the U.S.. Microsoft will soon add it in more country. The next thing is reading a book. In previous update Microsoft already added ability to read EPUB files in Microsoft Edge.
So now once you purchase the Books from Windows Store you will find those in your Books library, which is a new hub entry in Microsoft Edge right next to your favorites, history, downloads and reading list. Of course all those EPUB features which are previously added will work with the purchased book.
User can navigate through an e-book, use table of contents or seek bar at the bottom of the browser. Even search for the words or phrases and also ask Cortana to define it. They also added ability to pick up where you left of, leave bookmarks and ability to read offline. In addition user can change font and text size, themes while reading book.
Are you looking forward to Books in Windows Store? Let us know in a comment below.