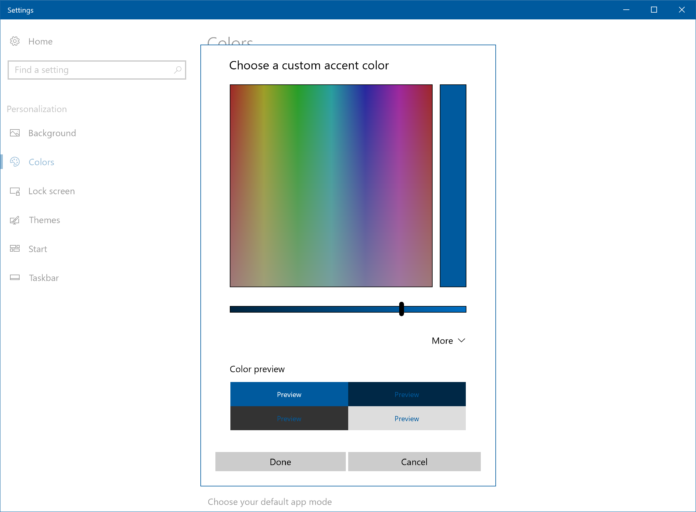 Microsoft released Windows 10 Insider Preview Build 15014 with the many new features and improvement over the last public preview build which was 15007. Build 15014 is available for Insider in the Fast Ring. This build finally bring the ability to choose any color as accent color for Windows 10.
Basically the accent color will appear throughout the OS, including the Start Menu, Cortana, taskbar, Action Center and even some third-party apps. This is the most highlighted feature in this build. Till yet, users can only choose accent color from a group of colors. We only have 49 options to choose accent colors. But with the build 15014 we can choose any color; they actually introduced a color picker for that.
If you are a Windows Insider running Windows 10 build 15014, then go ahead to Settings > Personalization > Colors and click on Add more button. There you go! You will see all new color picker. In addition we can now enter the value of the HEX, RGB or HSV color codes too. And you can also take a preview of the specific accent color.
Recently Microsoft added Recent accent color in same section. So if you don't like the new color you can choose from the previous one. And here it's worth to mention that this new features will be available for the production user with Windows 10 Creators Update which is schedule for April 2017.
Note: This feature is only available for the PC.