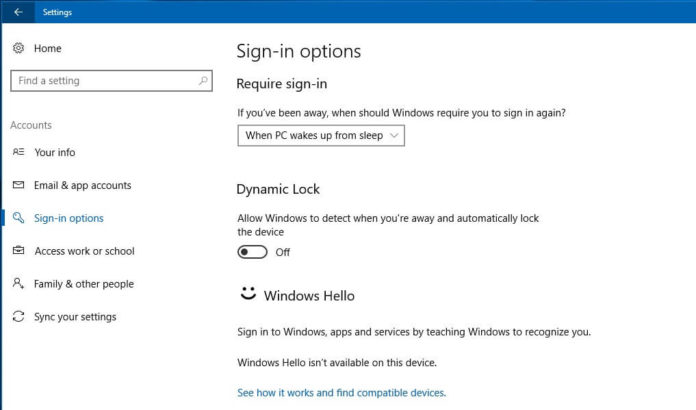 Dynamic Lock in Windows 10 has been introduced by Microsoft almost a week ago. The new feature is supposed to be part of Windows 10 Creators Update. The feature will automatically lock your PC when you leave your work place. It is basically a security feature and it could be useful sometimes.
What is Dynamic Lock in Windows 10?
What it does? It simply allows Windows to detect when you're away and automatically lock the device." It's pretty safe to say that the feature won't lock your PC immediately after you've stepped away, so it shouldn't become an annoyance if you're someone who is constantly stepping back and forth from their device.
How to enable Dynamic Lock in Windows 10
Open Settings app from start screen
Go to Settings -> Sign-in options.
Just above Windows Hello, you will find Dynamic Lock feature.
Toggle the feature on in Dynamic Lock settings.
That's it. Your PC is now secured.
Internal reports confirm that the feature is being referred to internally at Microsoft as "Windows Goodbye" which further suggests a camera connection.
This feature will be beneficial for Enterprise customers who generally have sensitive data stored on their PC's since they frequently step away from their PC's. Currently we are not sure as to how the company plans to determine if you are no longer present in front of your PC.