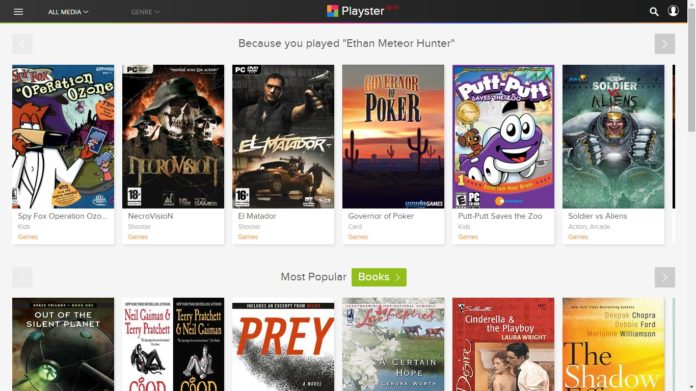 Playster is a new digital multimedia streaming platform, which provides users with unlimited access to music, movies, ebooks, audiobooks and games. The services are provided on a subscription basis and you will require an internet connection to access the digital collections. With no user restrictions, you can access Playster's subscription service from any web-based device and stream as much content as you want for one flat monthly fee. You can also download the Playster app on your iOS or Android device, or you could use a web browser.
Good Value For Money
Priced at just $24.95 a month, the all-inclusive Playster subscription is quite a catch. Offering a huge collection of books, audiobooks, games, music and movies, the Playster subscription service is the first of its kind. There is also a 30-day free trial that allows you to try this superb service before paying for it. However, your credit card information will be required while signing up. Users in the US, Canada and Europe will be very happy to hear that by subscribing to unlimited books, music, movies and games for 12 months, they will receive a gift that includes a free Android tablet and headphones! Called the Playster Combo Box, this special gift will be shipped to you right away (just pay shipping), allowing you to enjoy a unique digital experience.
Easy Access
Signing up is quite easy as you can do so using your Facebook or Google Plus signin. Additionally, you can open an individual account using an email and password — choose whatever suits you. The Playster website's interface is extremely user-friendly and simple to use. If you want an Android app, you can download it from the Google Play store and login with your registered details or, if you're an Apple user, you can download the app from iTunes.
How Compatible Is Playster?
The Playster subscription is extremely compatible with all kinds of web-based devices, including Dell, Samsung, iPad and more. So, whatever device you are using, without any doubts, you can download the app and start streaming unlimited media today.
Overall, despite some minor glitches, Playster is a one-stop destination for enjoying unlimited entertainment. If you are a fan of streaming services, then this platform will surely make you happy. The 30-day free trial is there to let you test it out risk-free and decide if it's right for you. Note: They might authorize your account $1 for verification purposes, but that hold amount will released in the next 48hrs.
The Cancellation Procedure
The Playster subscription renews automatically each month, but don't worry: their cancellation policy is quite accommodating. If you are not satisfied with the services, you can cancel your membership any time you wish. Online cancellation is the easiest way to do so, but you can also cancel with a simple telephone call. Simply call their phone support and you'll be connected to their friendly and helpful support staff who can also answer any questions you might have.
You can learn more about the service here.