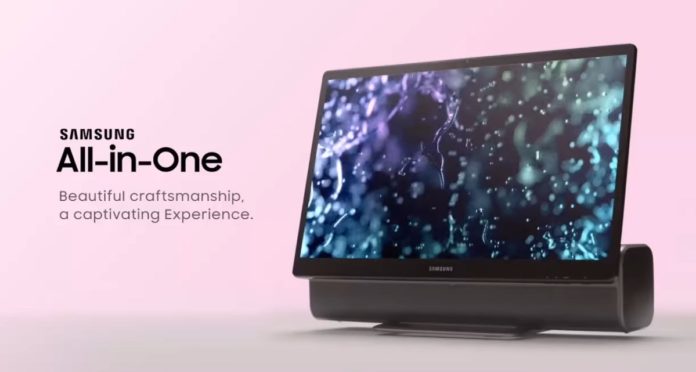 Samsung has unveiled a huge range of devices at CES 2017 last week which included smart refrigerators and OLED TVs, first gaming laptop. The All-In-One PC has a 24-inch 1080p touchscreen, height-adjustable display that can also be tilted. The PC uses a 2.4GHz Intel Core i5-7400T (35W) processor, 8GB or 16GB RAM, 1TB 5400RPM hard disk drive. Samsung claims that RAM and storage in this PC can be upgraded easily.
The soundbar has stereo 10W x2 speakers, and Samsung is providing a full sized wireless keyboard with curved keycaps and a wireless mouse, along with a front facing webcam which can be used for facial recognition through Windows Hello.
The rest of the specs include:
2.4GHz Intel Core i5-7400T processor
Intel HD Graphics 630
8 or 16GB of memory
1TB 5,400 rpm hard drive
Headphone/mic combo, HDMI in, HDMI out, one USB 3.0, one USB 2.0, SD card reader
Currently Samsung has not revealed any pricing details for its new All in One PC and the availability of the device just yet. We will be updating this article once we get more details on the Availability and Pricing of the new Samsung's All in One PC.
Image Courtesy: Neowin