Gartner predicts that Apple will overtake Microsoft in smartphone shipments in the year 2017. In the year 2016, shipments of Smartphones from Microsoft and Apple have seen steep decline in the sales. Devices running Windows 10 have seen steep decline over the last 5 years with 350 million devices sold in 2012 whereas only 260 million devices were sold in the year 2016.
Apple has also seen a stagnant decline year on year over the last few years, but Gartner believes the release of iPhone 8 will see a change of fortunes for the company in the year 2017. With Windows Phone almost dead, Gartner says that Apple is in line to takeover Microsoft in the Smartphone sales in the new year.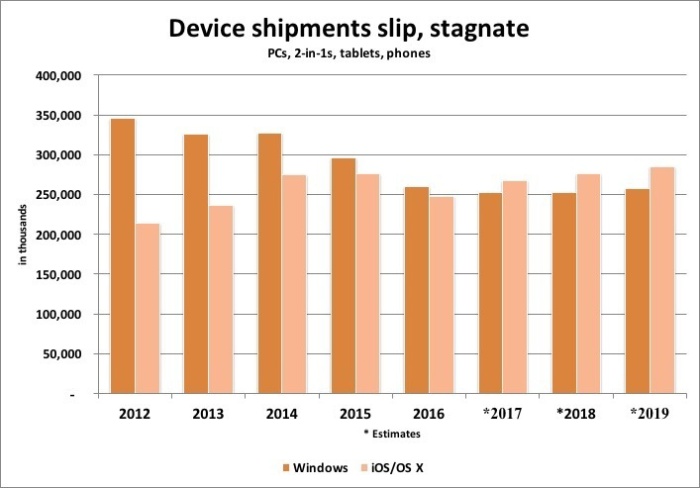 He also says that Android has been the Operating System which is way ahead of its competitors and has taken over the global phone market long time ago. Devices running the Microsoft OS is just 11.3% of the total of 2.3 billion devices shipped in 2016.
Microsoft is however putting a lot of efforts to popularize Windows Phone but has failed, the company has however has not completely exited the market, and continues to push the OS, via OEMs, as an operating system for the enterprise.
In 2017, Apple's combination of iOS and macOS — the former on iPhones and iPads, the latter on Macs — will take second place from Windows on the devices shipped during the year. The gap between the two will widen in 2018 and 2019, with Apple ahead of Microsoft both years.
Image Credit: ComputerWorld