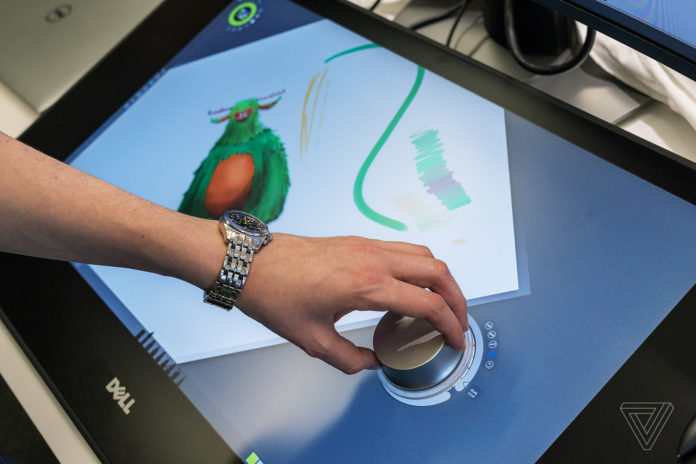 Dell is unveiling a product called the Canvas, which is a sloped monitor but not an all in one with a PC inside. You need to sit on your desk, plug your existing computer and use for sketching, animation.
Like the Surface Studio, Dell's monitor comes with a puck like controller, when placed directly on the screen pulls a circular menu that can be used for controlling Windows and specific apps. The Dell's peripheral is called the Totem which works like Microsoft's Dial tapping into very notable absence of Adobe's Creative Suite.
The Canvas has a 27 inch display but appears much bigger that extend well beyond four edges of the screen. The display also has a pretty low resolution at 2560 x 1440 but its not as sharper as the Surface Studio which has a high resolution of 4500 x 3000.
The lower resolution would work better with more computers since the graphic chips won't have as much work to do. Dell has also provided a custom software for the Canvas that allows apps to be pinned to different edges of the display.
The company has currently not announced the pricing of its Canvas device but has said that the Device will begin Shipping sometime in April 2017.