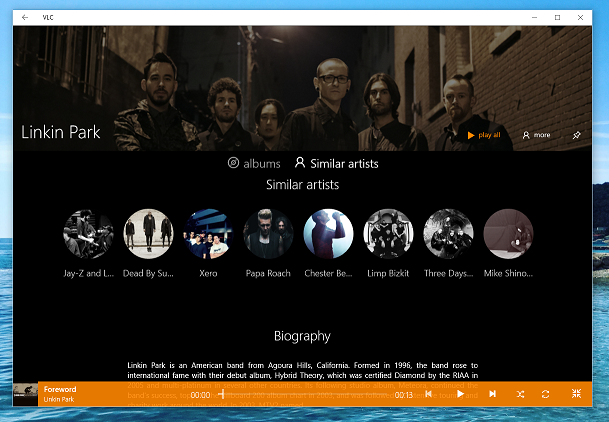 VLC has received a new update to its App on Windows 10 and Windows 10 Mobile. The update has bumped the app to new version 2.3.0.0. The update brings a lot of bug fixes and improvements to the application. Below is the full changelog of the update.
Bugfixes:
* Fix crash when browsing password protected network drives
* Fix mixed up channels when playing 5.1/7.1
* Fix too long media discovery
* Fix wrong external drive being browsed when 2 or more drives are plugged in
* Fix various hardware acceleration bugs
* Fix crash when displaying teletext subtitles
* Fix inconsistent background audio behavior
* Fix duplicated display of network drives
Application:
* Added fast seek using gamepad triggers
* B will now close the playback overlay when it's displayed
* Fix default control panel button focus
* Improved media discovering performances
* Fixed tab colors
* General performance improvement
Description
VLC media player is a portable, free and open-source, cross-platform media player and streaming media server written by the VideoLAN project. VLC media player supports most audio and video compression formats, files and streaming protocols.
The update to the application is currently live and you can get it by clicking the below link. Do let us know if you find anything new after the update.