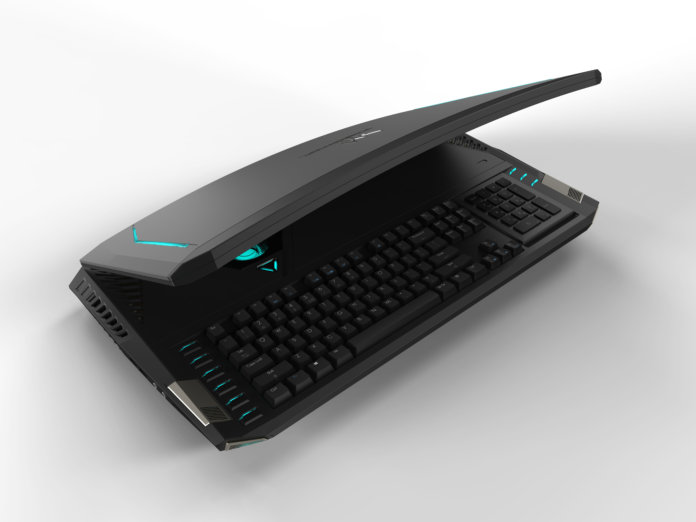 Acer had announced its Predator 21X gaming laptop in the month of August 2016 at the IFA.  The Predator 21X is really powerful and has two NVIDIA GeForce GTX 1080 GPU's with 7th Generation Intel Core processor, five cooling fans. You can also get up to 4TB of SSD Storage and 64 GB of RAM. The device also has a mechanical keyboard inbuilt with 4.2 sound system and a curved 21 inch display.
Below are some of the key features and Specs:
Powered by Windows 10
Curved 21-inch IPS display (2560 x 1080 resolution with a 120Hz refresh rate), with NVIDIA® G-SYNC™ technology
Features the latest 7th Generation Intel® Core™ i7-7820HK processor
Dual NVIDIA GeForce GTX 1080 GPUs in SLI for unmatched graphics performance
64GB of DDR4-2400 memory
Up to four 512GB solid state drives in RAID 0 configuration (including 2 NVMe PCIe SSDs, which are up to 5x faster than SATA SSDs)
A 7200 RPM hard drive with up to a 2TB capacity.
Full-sized mechanical keyboard featuring CherryMX switches, with customizable RGB backlight settings for each individual key.
SoundPound2+ (4 speakers and 2 subwoofers), 3-way audio and Dolby audio
Advanced cooling architecture with 5 system fans, 3 of which are ultra-thinAeroBlade metal fans, to extract excess heat for uninterrupted performance during intense sessions
The Predator 21 X's numeric keypad also touts a unique design as it can be flipped over and turned into a Precision trackpad
The company has confirmed that the Predator 21 X will be available in North America in February with U.S. prices starting at $8,999; and in EMEA in February with prices starting at €9,999.