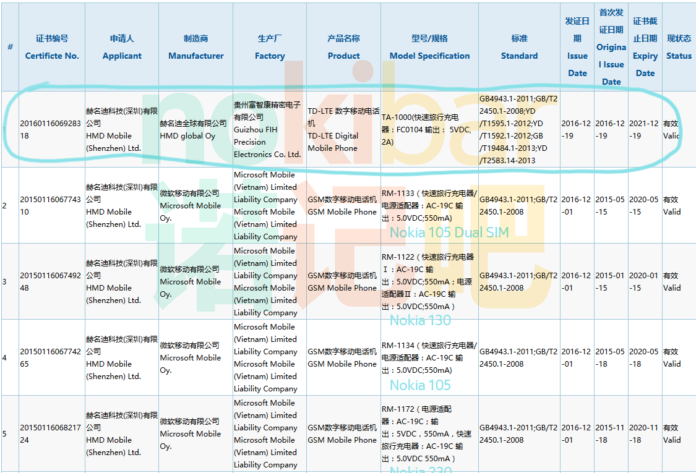 2016 is about to close, and we all set for 2017, wait actually we all set for new Smart phone coming up in 2017; specially Nokia Android Smartphone. Today we got another exciting news about upcoming Nokia Smartphone.
HMD Global which is manufacturing Nokia Smartphone is expected to announce its first Nokia-branded smartphones at Mobile World Congress in February 2017. We've seen lots of reports that the Nokia D1C could be the first Nokia Android smartphone.
First Nokia – HMD Smartphone named TA-1000 (as per certificate), the TD-LTE variant listed with both HMD Global Oy as Manufacturer and FIH as Factory passes the Chinese certification.
But with this certification we now assure that the first Nokia Android smartphone is not far away. There is no surprise that Nokia will reveal their first smartphone at MWC 2017. The smartphone which passes the Chinese certification could be the Nokia D1C. But could be another one. Since there is no model name written anywhere.
It is possible that they will announce 2 headset at MWC 2017, and of them could be this one. Another high end specification device might be the much rumored Nokia E1. However things could change, since its just a rumor.
Nokia D1C and Nokia E1 or Nokia Edge may be the first ever Nokia Android Phones to come from HMD. These two smartphones will target the low and mid price segment of smartphone market. Stay tune to Windows Latest for more update.