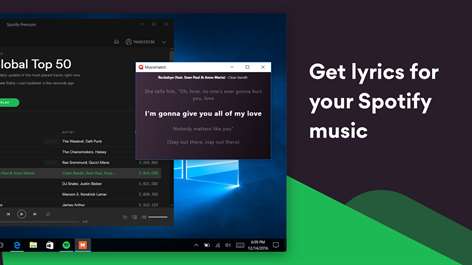 Musixmatch, is a popular service lyrics app designed for Windows 8.  It is a music player that had its success more to display lyrics of the songs from the library. The application recently got updated which apparently uses the Centennial project which allows Win32 applications to be easily converted to UWP and makes it easier for the developers to publish the app in the store.
Musixmatch currently supports Desktop client iTunes and Spotify but does not Support Groove Music, which we expect the support to Groove to arrive in the next update to Musixmatch. The application however does not play music but opens a windows which shows the lyrics of the songs we are listening to.
This application on Android does not only display the lyrics of collections on Spotify or iTunes but will also be able to add lyrics and Synchronise them but this you will be able to do only if you signup at Musixmatch using your Facebook or Google Account.
The update is currently live and you can get it by clicking the below link. Do let us know if you find anything more interesting to report in the comments below.
Download Musixmatch for Windows 10.