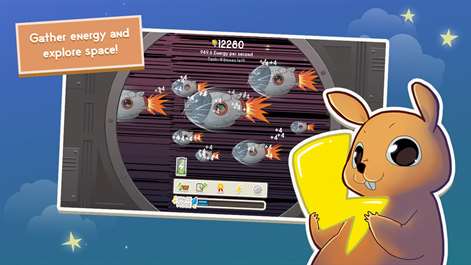 Game Troopers has been a long time supporting company for Windows Platforms. The games released by the company have been generally released on the Windows Platforms before being available on Android and iOS. But there has been an exception in the case of its new game Hamster Universe.
This game was first officially launched on iOS and Android and recently the company Game Troopers have brought the Hamster Universe game to the Windows Phone users. The game is available for users on Windows Phone, Windows 10 and Windows 10 Mobile.
Description:
Hamsters are idleness critters that prosper all their lives eating, sleeping and occasionally going for a run and not much else. They prosper and reach their milestones that way. One heroic hamster tired of idleness decided there is more to life and idle than just that. Instead of going through the idle games routine of an ordinary rodent, he tapped and gathered like-minded hamsters for a trip of their lifetimes to reach his milestones – gather energy riches. He took some picks and built a high-tech spaceship powered by his tapped click wheel and prepared for a journey to explore the vast riches of the outer space void. All he needs before the takeoff to the void is your click
Features of the game:
• Idle games / Incremental gameplay is easy to understand for everyone! Click this cute astronaut to generate energy riches.
• Is hamster tired of being tapped? Let your eager heroic astronaut prosper in the void even when you're on idleness duty!
• Spend tapped energy for powerful incremental upgrades to reach your milestones.
Earn in-game XBOX achievements to prove your awesomeness.
The game is available for download in the Windows Store for Windows Phone, Windows 10 and Windows 10 Mobile for free but you also have an in app purchase option which is optional and can be disabled through your device settings.
Download Hamster Universe for Windows