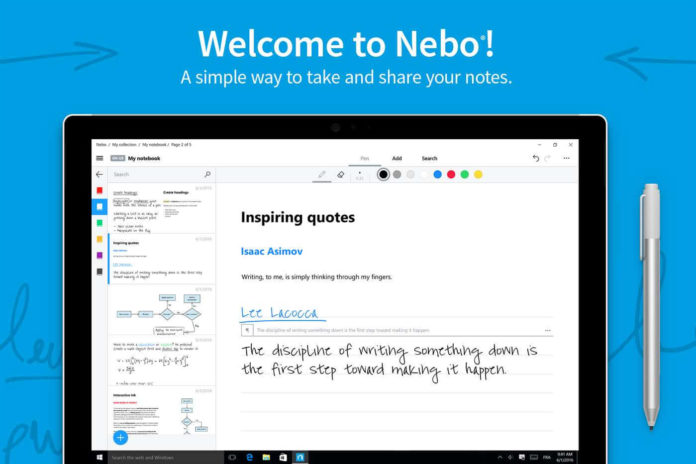 Best way to take notes, Nebo app for Windows 10 Devices snagged a new update. Nebo is a powerful app with cool features like support for Surface Pen and much more.
The app is now available for free on the Windows Store. The actual price of Nebo is $8.99 but you can install it for free within 13 days.
Key Features:
Edit and format with your active pen – Interactive Ink allows you to write, insert or remove content and space, decorate and apply styles, using only your pen.
Add rich content – draw interactive diagrams with elements that you can edit, delete and move around. Write editable equations; get calculated results or conversion to LaTeX.
Draw freeform sketches, and annotate pictures.
Export to Microsoft Word – handwritten notes can be exported to Word or sent via email. Headings, paragraphs, list, color, bold, highlight, are all preserved.
Smart layout – canvas is unlimited, blocks are resizable and ink will adjust to new size and device orientation.
Search – search and find handwritten ink and text in your note, including in your diagrams.
Store your notes – organize your notes in pages, notebooks and folders. Export or import your notebooks.